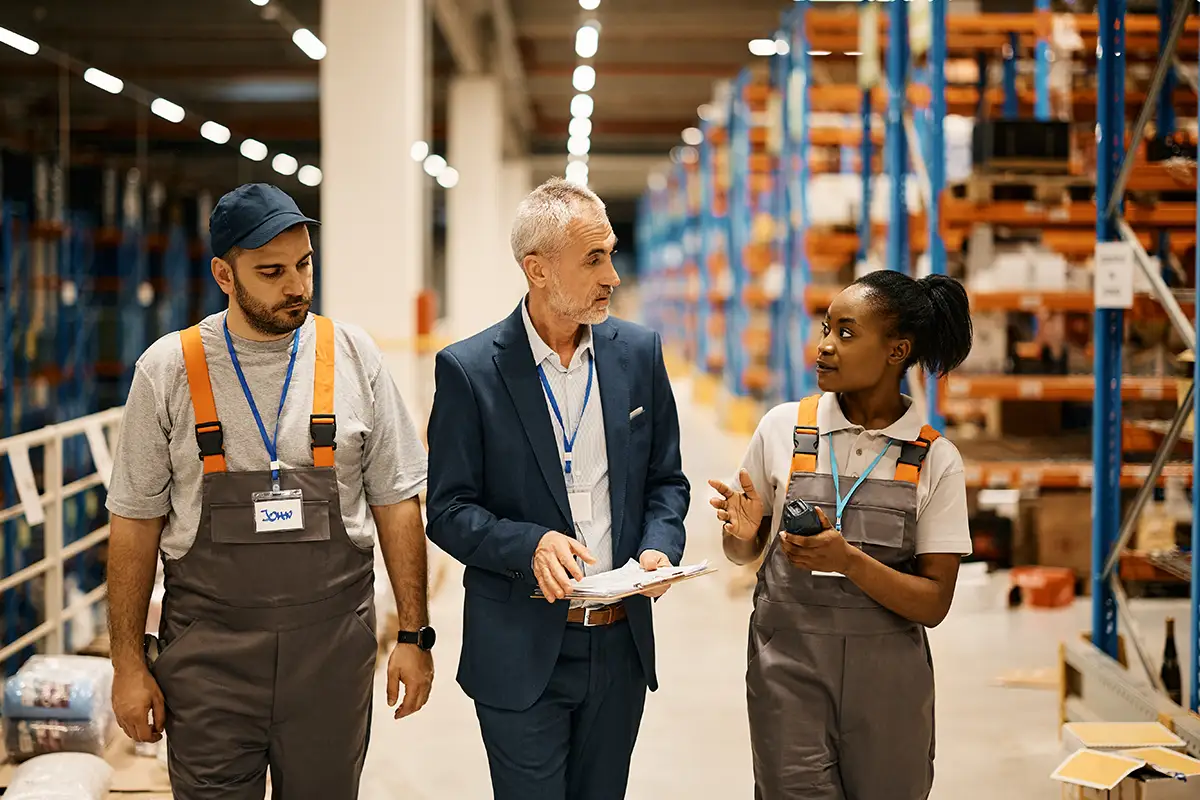 Removing supply chain stiffness and building agility is not something delivered overnight but is arriving more often in simpler and faster solutions as data + AI driven predictive advanced analytics are addressing Industrial and CPG goods manufacturers' supply risks. Supply chain disruptions urgently need to be addressed as they are taking a toll on Industrial and CPG goods manufacturer's profits, and the disruptions are becoming riskier.
McKinsey reported in 2022 that eighty percent of in industrial, medical device and discrete manufacturing increased inventories during 2021; a separate analysis of almost 300 listed companies found that inventories increased by an average of 11 percent between 2018 and 2021, with the largest increases in the high-tech and commodity sectors. A costly tactic to address supply chain risk, and one that relies upon a backwards historical view not delivering a hint of what the future will be.
As recently as 2021, McKinsey estimated that within the future decade, close to half (45%) of a year's profits would be eroded by supply chain disruptions and that even a disruption lasting just a month could equal losses of 3-5% EBITDA. Today, 60-85% of manufacturers are planning to act on these challenges by planning significant changes to their inventory management strategies, but 83% of executives say their supply chain technology investments haven't fully delivered expected results. There is a clear need for data + AI solutions that can power advanced analytics to help mitigate supply risks, inventory availability risks and build planning resilience.
Building a data + AI powered flexible and agile supply chain is well known to Snowflake and Tredence, approaching supply chain excellence as a journey not a destination. Keeping these three foundational core elements embedded in your supply chain excellence strategy ensures enterprise agility and resiliency. Core elements of the journey are:
Building a data foundation: Migrating from dated on-prem hardware to the Snowflake's cloud-native, unified, and fully managed warehouse platform for multi-cloud data consolidation and elastic performance supports virtually any scale of storage, compute, and user. Tredence's purpose-built migration solution accelerators migrate legacy data warehouse applications 50% faster to Snowpark, Snowflake's developer framework for Python, Java, and Scala,
Mitigate Supply Chain Risk: Snowflake and Tredence de-risk supply chains with data and AI by enabling seamless data sharing and collaboration from data from third-party partners and from Snowflake Marketplace, providing enterprise downstream and upstream visibility. Tredence's predictive Supply Risk Management data model contains both internal (SAP ERP or MES data) and external (weather, social media, or port congestion) data to deliver a near-real time visibility into at-risk in-transit shipments and downstream impacts, has risk prediction models that account both internal and external factors, and exploits prescriptive analytical models and simulation layers to help mitigate the supply chain risks.
The predictive Supply Risk Management engine uses ML algorithms and various internal and external data sets to mitigate supply risk with these tools:
Inbound Order Delay accurately predicts inbound ETA all inbound potentially delayable purchase orders due to various internal and external factors and that determines downstream impact.
Near Realtime Shipment Tracking provides near real-time visibility to all your inbounds & purchase orders with alerts to flag potential delays
Stockout Risk Prediction allows the sourcing team to proactively identify which materials are at a risk of stocking out due to macro and operational supply disruptions in advance so that mitigation steps can be taken.
Dynamic Inventory Planning uses a dynamic inventory planning engine for predictive optimal stock plan recommendations.
Dynamic Sourcing / Fulfillment downstream prescriptive modules that help to optimally Identify alternate sourcing or alternate DC fulfillment orders based on material availability and cost optimization to reduce delay impact
The pSRM is a part of Tredence's broader control tower vision of helping Manufacturing organizations connect Supply chain and planning data with core Mfg operations data through our connected data model powered by our Smart Manufacturing accelerators.
Power smart manufacturing: Manufacturing's data sometimes spans data from 25 year old sensor protocols, or even older data historians, to data from new sources like live feed video. Snowflake's native support for semi-structured, structured, and unstructured high volume IoT data enables manufacturers to keep operations running remotely by streamlining operations within and across manufacturing plants, while also leveraging shop floor data in near real-time to predict maintenance needs, analyze cycle time, improve product yield and quality, and meet sustainability goals. Tredence's Edge-AI white box solution uses a unified approach to enable 1) Edge model deployment and orchestration, 2) Edge infrastructure orchestration, and 3) solution monitoring and feedback loop. With Edge-AI you can:
Accelerate deployment of ML models to Edge devices located in the plant
Have seamless solution orchestration and monitoring on Edge devices with closed loop feedback to the data science teams
Have low-touch Edge infra health, performance monitoring and optimization
Tredence turned to Snowflake's Manufacturing Cloud when building the predictive Supply Risk Management solution addressing supply chain agility and risk because of its' seamless data sharing and collaboration capabilities. Snowflake provides a data platform that delivers advanced use cases that promote near-real time visibility and predictive insights of material delay, stockout risks, and downstream impact. Snowflake enables manufacturers to keep supply chains running an increasingly digital first industrial world", David LeGrand, Sr. Director Partner Development
The Architecture
Snowflake and Tredence have built p-SRM as a white box purpose-built solution that can be tailored to the specific needs in the supply chain, whether it be in global nature of semi-conductor or automotive discrete manufacturing supply chains to a continuous process used on the manufacture of domestic source of recycled aluminum roll stock. Snowflake and Tredence have built the following architecture and have the capability and scalability to:
Ingest batch and streaming data from IoT devices with HVR's or Qlik's well known products; ingest internal data sets such as purchase orders, materials stock status and location residing in your ERP and MES systems; and external data sets including weather, port congestion, or social media.
Leverage all forms of data including structured, semi-structured and unstructured data.
Clean and refine data, in one open-source location building a unified connected data model which can be transformed for use with Snowpark advanced analytics or visualized business intelligence.
Provide predictive recommendations through systems like PowerBI or ThoughtSpot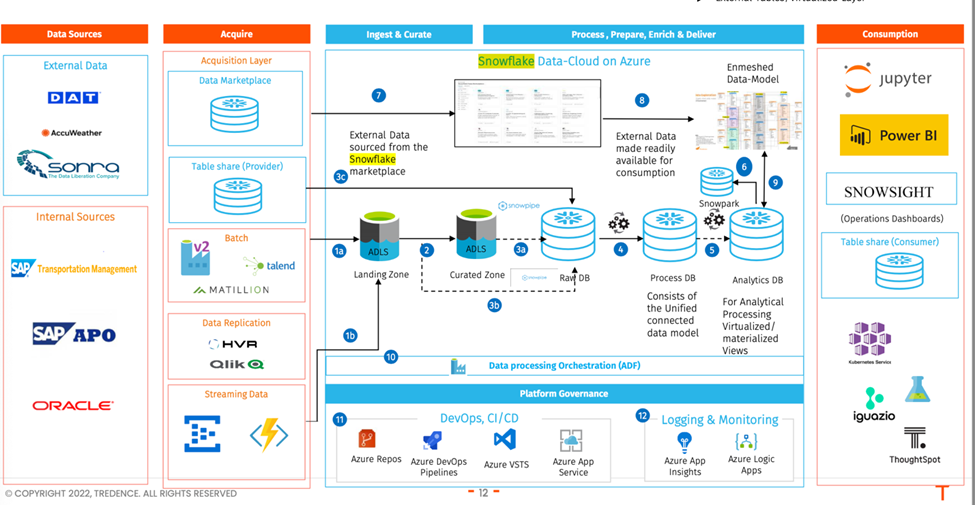 Delivering Real-World Value
Recently a global retail major was shackled with a series of siloed systems to track KPIs and performance. The client wanted to ensure real-time visibility of their Supply Chain status and performance metrics with additional advanced AI recommendations and analytic capabilities.
They were saddled with a lack of real-time visibility and insights as the SCM team maintained an extensive repository of manual functional scorecards using excel, additionally data was scattered across more than 60 data sources. Connected insights across network were weak to non-existent as collaboration delays caused by sequential information flow across core operating functions hampered real-time decision making. Isolated functions caused unsynchronized responses lacking predictive & prescriptive intelligence within the planning cycle.
Tredence's p-SRM delivered:
10% Improvement in On-Time Delivery
5% Reduction in Transportation Cost
6% Reduction in Fulfillment Cost
13% Lower Expedites
5% Reduction in OOS%
9% Reduction in Labor Shortages
12% Improvement in Order Allocation
Want to learn more? We'll be attending the upcoming April 17-21st Hannover Messe event and available to discuss the entire ecosystem powering supply chain risk mitigation. Spot by the Snowflake booth (F64, Hall 15) on Wednesday April 19th to chat about how we can mitigate your supply chain risks. Or contact me at Alliances@tredence.com
Detailed Case Study
Driving insights democratization for a $15B retailer with an enterprise data strategy
Learn how a Tredence client integrated all its data into a single data lake with our 4-phase migration approach, saving $50K/month! Reach out to us to know more.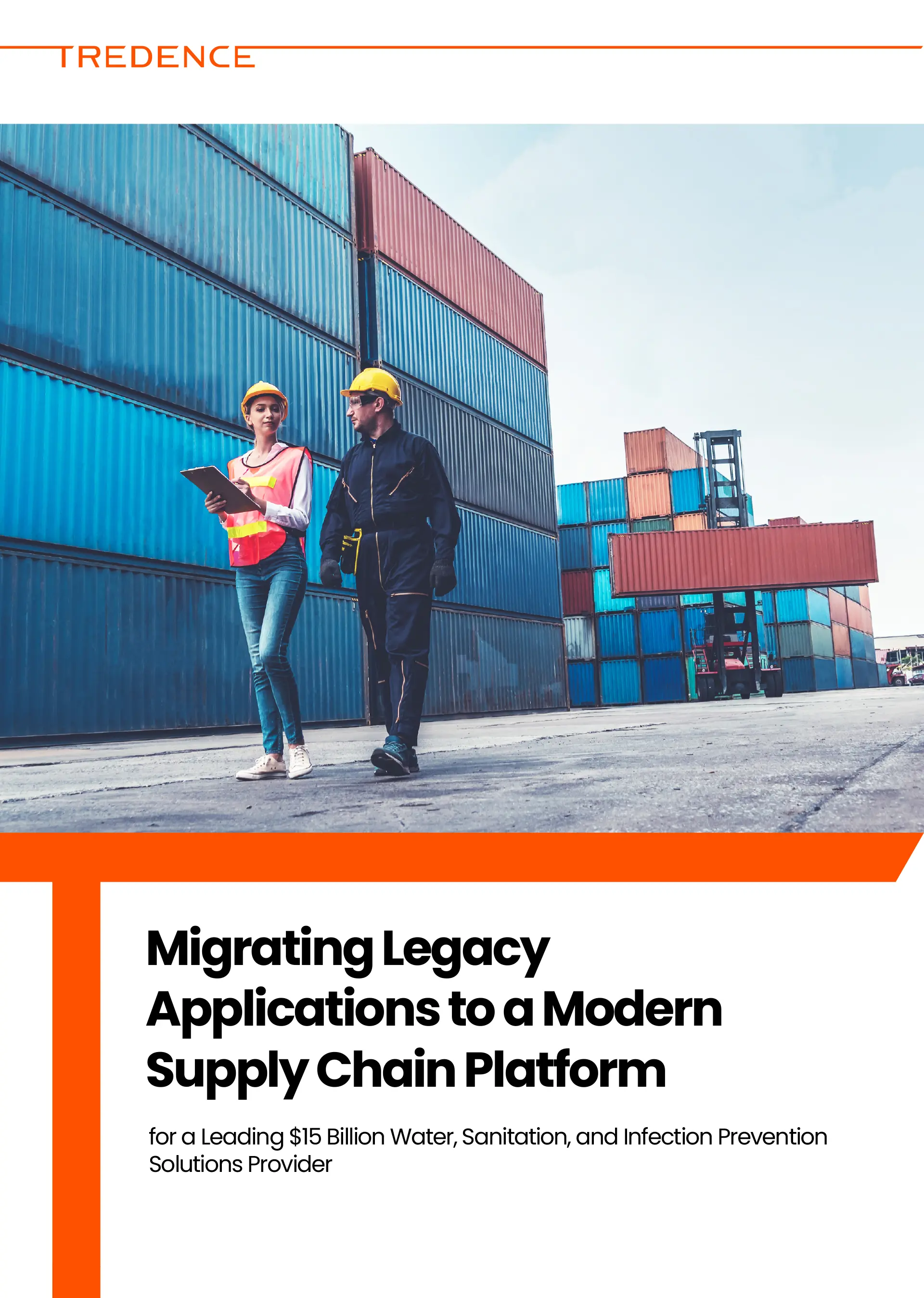 Detailed Case Study
MIGRATING LEGACY APPLICATIONS TO A MODERN SUPPLY CHAIN PLATFORM FOR A LEADING $15 BILLION WATER, SANITATION, AND INFECTION PREVENTION SOLUTIONS PROVIDER
Learn how a Tredence client integrated all its data into a single data lake with our 4-phase migration approach, saving $50K/month! Reach out to us to know more.