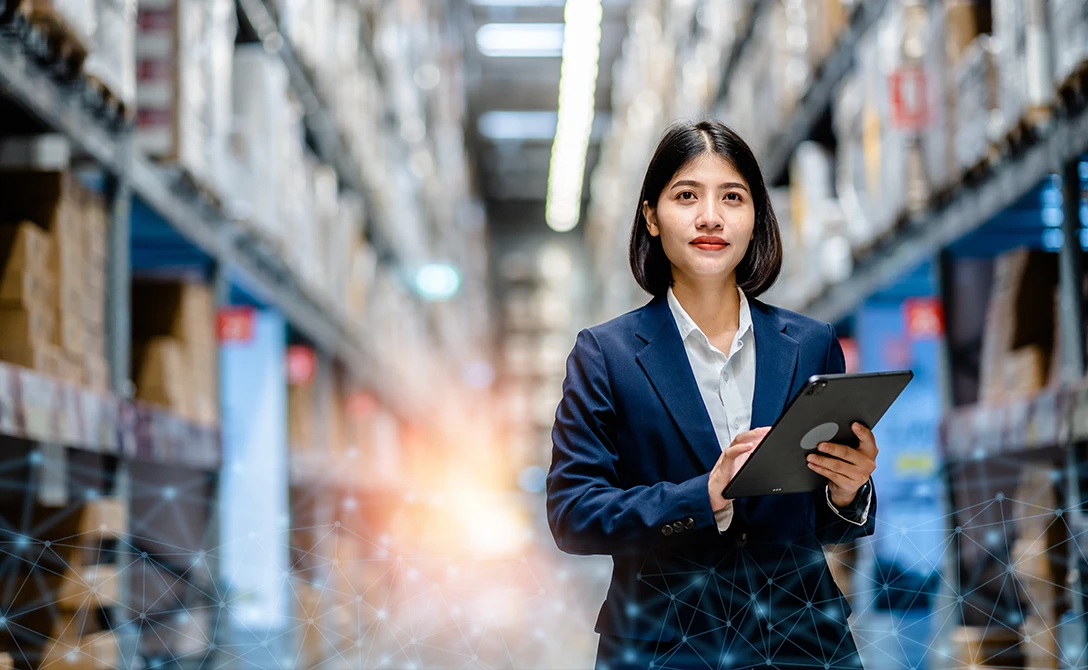 The vulnerabilities of today's global supply chains were starkly exposed by the COVID-19 crisis, its fallouts in a post-pandemic world, and the conflict in Ukraine. It became unambiguously clear that organizations need to move rapidly towards supply chain digitization and futuristic supply chain practices to keep the ecosystem rolling in a well-oiled way.
This can be achieved by recognizing three essential priorities— resilience, agility, sustainability, and the supply chain function's conventional cost, quality, and service goals. In addition, global supply chain leaders must revamp their supply chain management solutions to align with these goals.
Resilience: Supply chain management solutions that are resilient can adapt to changing market conditions and new demands since they are flexible, reliable, scalable, adaptable, visible, and agile
Agility: To address rapidly changing customer needs
Sustainability: Supply chains will play a crucial role in the shift towards a clean economy
Why will resilient supply chains triumph?
Historically, supply chain designs used to be "episodic," requiring annual upgrades. But modern organizations can perform design exercises on demand, thanks to accurate data and digital twins.
Technology is helping bridge the barriers between supply chain risk management solutions and procurement and enabling them to collaborate effectively. Organizations can now identify voids during the supply chain design phase and turn them into sourcing events. New technologies that optimize supply chain design and sourcing will become a competitive advantage.
Cloud-based platforms also assist and enhance supply chain finance. This ensures that organizations pay suppliers on time, maintain their loyalty and liquidity, and establish a win-win situation for customers and suppliers.
Future-proofing supply chains: Strategies for reducing disruptions and mitigating risks
Supply disruptions can be a recurring reality for any industry that depends on goods and raw materials. Organizations with a limited operating budget find handling missed or delayed shipments, price hikes, and unanticipated import duties expensive. While it is impossible to predict a catastrophe, it is possible to prepare for potential disruptions. With today's technologies, supply chain risk management solutions can be reliably predicted and mitigated.
Methods for reducing disruptions and safeguarding supply chain management for the future:
End-to-end digital integration
The future of supply chain management will rely on modern technology to free staff time for tasks with higher added value. Visibility and improved control over the procurement process come from gathering data from suppliers, distributors, and end-point distribution sources into a single dashboard. Data compiled from logistics, customer fulfillment, raw material procurement, and predictive analysis provide in-depth insights.
As the world becomes increasingly interconnected, global supply chains face unprecedented challenges, from unexpected disruptions to rising costs. In this volatile landscape, supply chain executives must embrace new strategies to drive growth and maximize value realization. With Tredence's PoV on digital supply chain, industry leaders can explore the need for digital supply chain management solutions to restructure and build a more resilient and future-proof organization.
Discover how implementing AI/ML technology can revolutionize supply chain management and unlock untapped potential. Join the conversation and shape the future of supply chain management with Tredence today!"
Building sustainable supplier relationships
Building trustworthy partnerships with suppliers is necessary for the future of supply chain management solutions. After all, product availability, which is dependent on suppliers, determines a company's reputation. Data analysis helps organizations find suppliers who provide high-quality components consistently, on time, and reasonably priced.
Businesses can use integrated systems to monitor suppliers and be prepared for abrupt supply disruptions. In addition, suppliers can be assessed, and purchasing decisions can be revised.
Optimized and automated supply chain management solution
Automation can revolutionize productivity and simplify ordering and fulfillment. Modern procurement systems have data analysis tools that can analyze data points from multiple sources to enable precision decision-making.
No inventory management system can be reliable without effective optimization. And end-to-end supply chain visibility reduces costs, minimizes risk, and maximizes service quality. In a nutshell, an optimized supply chain risk management solution balances operations, enabling all functions to collaborate for higher efficiency and improved productivity.
Employing synchromodal transportation
The future of supply chain management in the freight industry with synchronicity is the best way to avoid supply chain disruptions. However, real-time data flow on cost, time, and ethical issues, like fuel emissions, is essential for an effective multimodal system.
Improve resilience
The guiding tenet of any supply chain - "single-source, just in time" - has been replaced by resilience.
Businesses are changing their supply chain techniques by:
Bringing supply closer to demand: Produce goods close to your customers.
Handling production: Climate change-related catastrophes and disasters may be avoided if supplies are closer to home.
Upgraded infrastructure
Global leaders can future-proof supply chains by supporting critical infrastructural enhancements that go hand in hand with digitization. The supply chain infrastructure comprises all the premises, equipment, and IT required to operate a supply chain. Furthermore, it is the primary factor influencing cost and service outcomes.
Supply chain management trends shaping the future
The Internet of Things (IoT), big data, and advanced analytics are among the most crucial developing technological fields for supply chains. In the coming years, eight supply chain technology trends will accelerate digital transformation:
A collection of technologies, such as robotic process automation (RPA), smart robots, artificial intelligence (AI), and machine learning (ML), can facilitate or automate large-scale procedures and activities that required human decision-making or action in the past.
Digital Supply Chain Twin
A digital depiction of multiple representations between the physical supply chain data elements, used as a foundation for local and end-to-end coordinated decision-making.
Immersive Experience and Application
The use of augmented reality (AR), mixed reality (MR), and virtual reality (VR) give users—including clients and staff—a cutting-edge perception of the virtual world.
Integrating edge computing and edge data processing, delivered through human resources networks, equipment, smart machines, sensors, and computing systems, helps make well-informed, dependable, secure, and swift decisions.
The implementation of security across information and digital levels (customer information, intellectual property, proprietary coding, transactions, and personal data) and physical levels (devices, equipment, products, operations infrastructure, and assets).
Environmental, Social, and Governance (ESG)
Corporate performance and evaluation metrics that assess a company's ability to effectively manage its environmental and social effects and the strength of its governance processes.
Integrated AI and Analytics
Software features that integrate advanced analytics and intelligence, such as machine learning (ML), predictive analytics, and prescriptive analytics, directly into enterprise business applications in real time.
Augmented Reality and Data Intelligence
A tool that combines old and new technologies with near-real-time data from the ecosystem. This enables enhanced data processing and the transmission of insightful data, forecasts, and suggestions that are pertinent and adaptable to user experiences.
Momentum for change
Today, supply chain management practices must be future-proofed to ensure the resilience, agility, and sustainability of the supply chain function. And looking past the current supply chain crisis, we can expect progress. For supply chain leaders, the past two years have been crucial, and many are building on the momentum they achieved during the pandemic by taking action to adapt and modernize. While there are other ways to prepare the supply chain for the future, these methods are a great starting point to minimize future disruption. Future-proof your supply chain by enabling last-mile adoption with Tredence today!
Detailed Case Study
Driving insights democratization for a $15B retailer with an enterprise data strategy
Learn how a Tredence client integrated all its data into a single data lake with our 4-phase migration approach, saving $50K/month! Reach out to us to know more.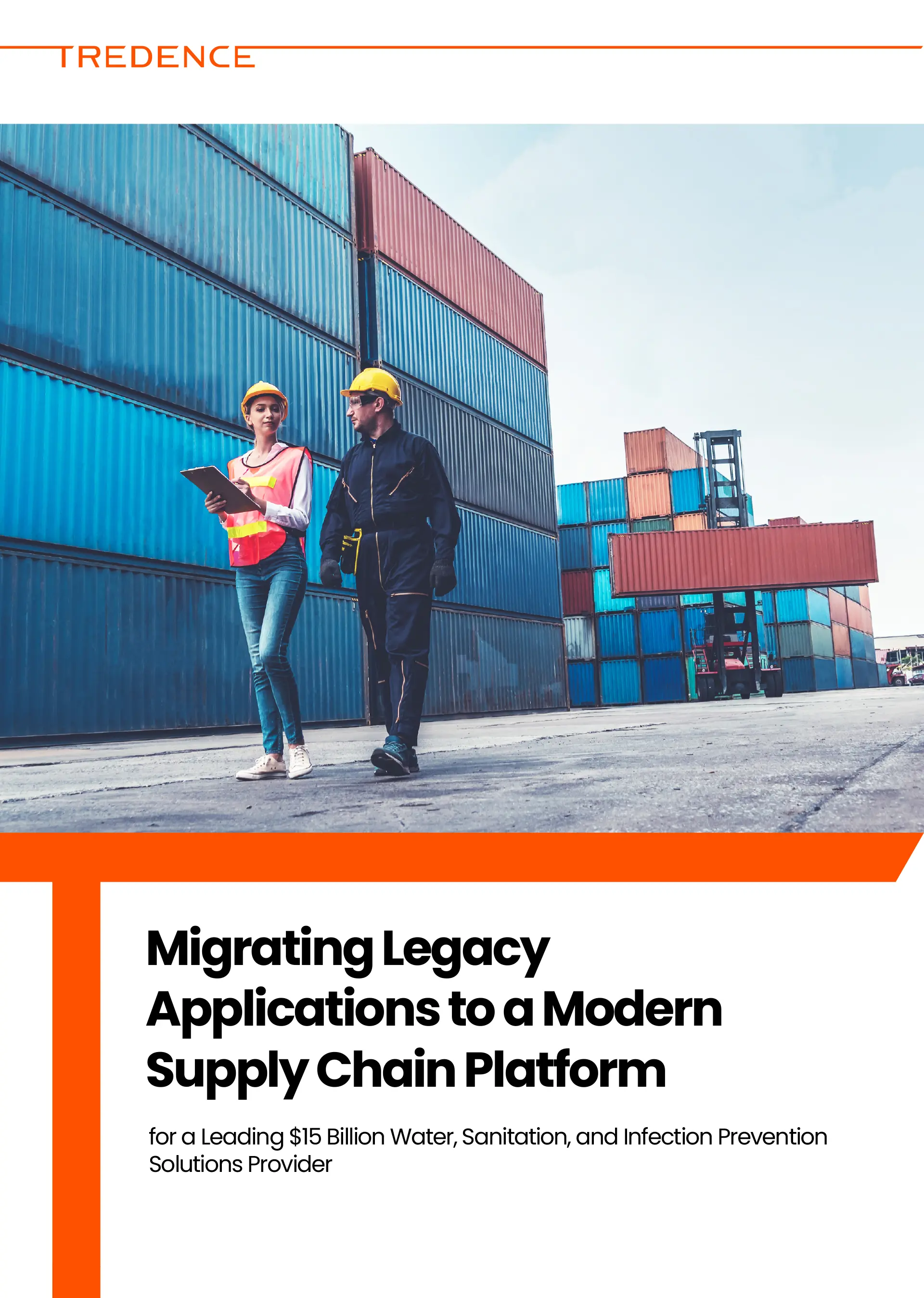 Detailed Case Study
MIGRATING LEGACY APPLICATIONS TO A MODERN SUPPLY CHAIN PLATFORM FOR A LEADING $15 BILLION WATER, SANITATION, AND INFECTION PREVENTION SOLUTIONS PROVIDER
Learn how a Tredence client integrated all its data into a single data lake with our 4-phase migration approach, saving $50K/month! Reach out to us to know more.