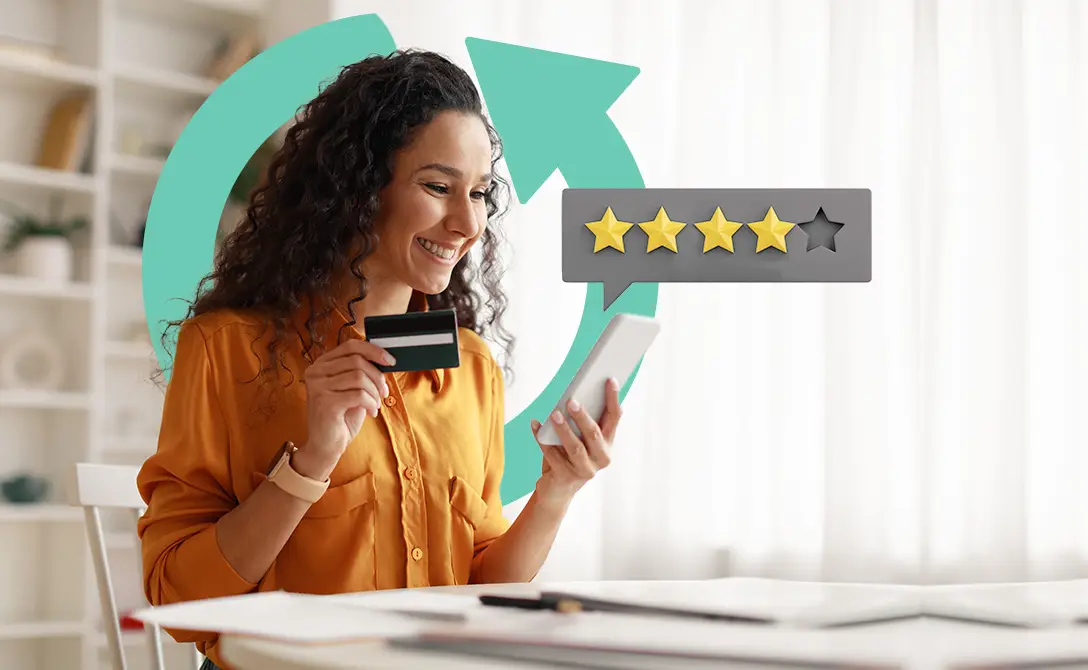 Agility is one of the top operational priorities for many forward-thinking businesses today. Customer intelligence is the foundation of agility in business as it enables companies to adapt and pivot quickly, personalize offerings, and manage top-quality customer experiences. This results in higher customer experience ratings and a sustainable competitive advantage. While many businesses have upgraded their customer experience management infrastructure and services to enhance digital touchpoints, others focus on scaling customer 360 analytics to boost revenue.
To accomplish higher customer lifetime value (CLTV), businesses need to place AI-powered customer experience management at the center of all they do and personalize their experience across the company's physical and digital channels based on their specific needs and preferences. For example, businesses can use robust customer 360 analytics solutions to offer to deliver differentiated, truly contextual experiences that drive stronger brand loyalty, retention, and growth. Around 70% of consumers feel that brands that understand their specific needs drive their loyalty.
What does it mean to be a digital enterprise?
The digital wake-up call: Navigating new customer expectations through digital transformation fueled by customer 360 analytics
The COVID-19 pandemic emerged as a sweeping wake-up call for businesses to pivot and formulate new strategies to adapt to new pressures of digital customers' expectations. The pandemic triggered enterprises to change their marketing, sales, operations, and IT infrastructure and implement organizational changes overnight. Unfortunately, the old ways didn't apply any longer.
We live in a new digital age today.
It's emerging as a gargantuan challenge for businesses to stay relevant to digital customers at each step of the value chain. This requires them to reassess all their business processes through a digital lens and embark on a digital transformation journey for improved customer experience management and enhanced operational capabilities.
Any business that fails to do the above risks its survival.
A digital enterprise uses sophisticated and scalable digital tools and technologies like AI, ML, IoT, predictive analytics, cloud computing, customer analytics services and solutions, and more to modernize its assets, formats, and organizational resources and automate its business processes. This helps enterprises adapt to quickly changing market conditions, realize significant improvements in time to market and performances, and provide high-quality customer experience across all touch points. Thus, a digital enterprise is more competitive, agile, and innovative and has more opportunities to succeed.
A digitally transformed enterprise builds an agile model that enables it to adapt its IT and business models with the latest digital technologies and use them as the core of its overall organizational strategy.
Unlocking business growth with customer intelligence 360: The power of personalization and differentiated offerings
Our digital footprints are expanding infinitely.
Enterprises have mountains of customer data sets — generated from campaigns, mailing lists, and other third-party data sources. However, gleaning actionable insights from this disconnected data can be extremely pressing.
While new customer acquisition is critical to a business's growth, retention is equally important as it leads to repeat purchases, increased customer loyalty, and cost-effectiveness.
Hence, personalized communication and differentiated offerings are key to establishing a long-lasting customer relationship. For example, customer 360 analytics empowers businesses with customer intelligence 360 to understand broader customer behavior trends and feedback to iterate products, messaging, and go-to-market (GTM) strategies. This has created opportunities for businesses to build a 360-degree view of the customer for effective customer experience management and long-term business growth.
Customer intelligence 360 helps enterprises get all the customer data (from past and current purchasing data to all interactions across social media, customer support, and all other touchpoints) in one place and share a unified view of each customer profile across all functions.
Customer 360 analytics platform helps businesses move a step further from the product development and customer service lifecycle and look at the customer behavior across all possible touchpoints where a customer interacts with a brand - a 360-degree relationship cycle to build a completely comprehensive view of the customer and better understand their specific needs and preferences. This, in turn, helps businesses better forecast the future needs of customer micro-segments and differentiate their offerings to improve customer satisfaction and additional revenue.
Maximizing customer experience (CX) through journey optimization with customer intelligence 360
Most businesses struggle to optimize customer experience repeatedly across their digital touch points. However, the ever-evolving customer expectations make it harder for brands to deliver multichannel customer engagement experiences. Thus, customer journey optimization must be at the heart of a business's customer experience management strategy.
Customer journey optimization ensures impactful end-to-end customer experiences throughout their purchase and post-purchase journey. Its tangible value is measured by the overall business impact it creates, not the small marginal positive impacts at every touch point, such as social media, apps, and your website.
Businesses that leverage customer intelligence 360 for effective customer experience management witness improved conversion rates, customer engagement, and brand loyalty, yielding a scalable competitive advantage. It entails mapping and analyzing the user experience to influence their behavior.
Steps to optimize the customer journey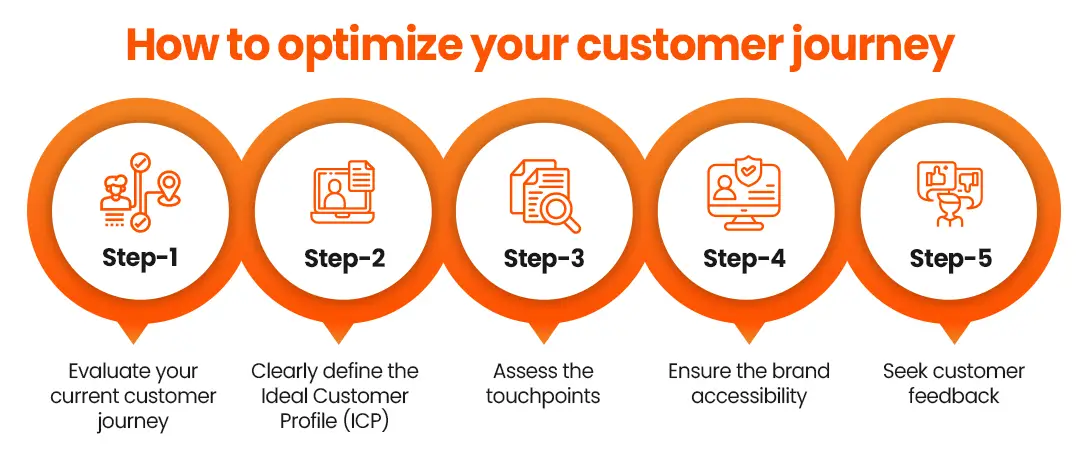 Step 1: Evaluate your current customer journey
It's recommended that a business maps out its touch points – pre-purchase, purchase, and post-purchase, and further classifies those into a) brand awareness, b) brand consideration, c) conversion, and d) repeat business.
Step 2: Clearly define the Ideal Customer Profile (ICP)
Today, a business must invest efforts in - clearly laying out its target persona – demographics, psychographics, or firmographics (if applicable); re-looking at the current customer base and their purchase behavior; identifying the longest staying customers and evangelists, their motivations to continue with or promote the business, and more.
Step 3: Assess the touchpoints
A business must strive to understand all touch points (offline and online) customers might interact with a brand on. For example, customer intelligence 360, by clearly defining your ICP and collecting and analyzing customer data sets across all touchpoints, can help a business lay out its customer experience management and engagement roadmap.
Step 4: Ensure the brand accessibility
Potential customers might want to interact with a business across different touch points in the various parts of the purchase journey. For example, a company needs to ensure that it's accessible to its potential and current customers at every step to reach out to the business in times of need anytime, anywhere. This can also help a company get instant feedback on customer purchases and post-purchase activity via other communication mediums.
Step 5: Seek customer feedback
Before a business embarks on its new customer optimization journey, it's critical to have customers' feedback on the website or social media to identify the scope of improvement across different aspects – brand touch points, source of referrals, product satisfaction, ease of loyalty/referral program, purchase bottlenecks, suggestions for better customer experience management. Map out the ways you can integrate new feedback loops into your process.
Many brands grapple with mapping their customer experiences accurately due to unstructured data collection and the inability to glean contextual and impactful insights from customer feedback signals.
Here's a reliable customer analytics solution for this.
Tredence's customer 360 platform – Sage CX - leverages advanced processes and technologies such as NLP/ML, API-based integration, self-service support, and call audit to enable businesses to tap into a customer-centric view of experiences to improve based on your priorities - from tracking the right operational KPIs to sustaining customer value.
Many businesses have benefitted significantly (Read our- Data Analytics Case Study) by choosing Sage CX for the following compelling reasons:
Detailed Case Study
Driving insights democratization for a $15B retailer with an enterprise data strategy
Learn how a Tredence client integrated all its data into a single data lake with our 4-phase migration approach, saving $50K/month! Reach out to us to know more.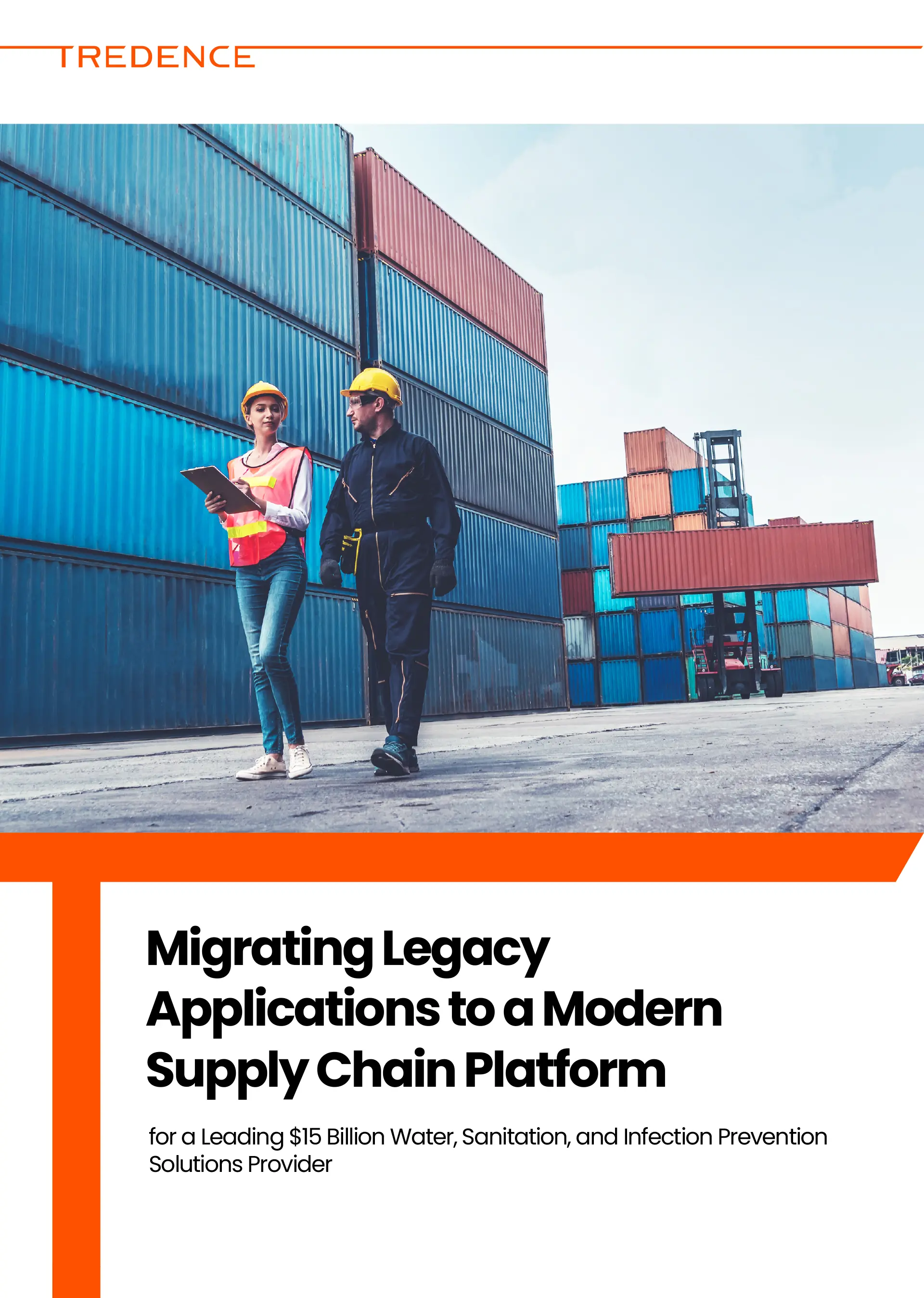 Detailed Case Study
MIGRATING LEGACY APPLICATIONS TO A MODERN SUPPLY CHAIN PLATFORM FOR A LEADING $15 BILLION WATER, SANITATION, AND INFECTION PREVENTION SOLUTIONS PROVIDER
Learn how a Tredence client integrated all its data into a single data lake with our 4-phase migration approach, saving $50K/month! Reach out to us to know more.
---
Next Topic
Monetizing the Math: AI Strategies that Boost ROI for Enterprise Investments
---
---
Next Topic
Monetizing the Math: AI Strategies that Boost ROI for Enterprise Investments
---