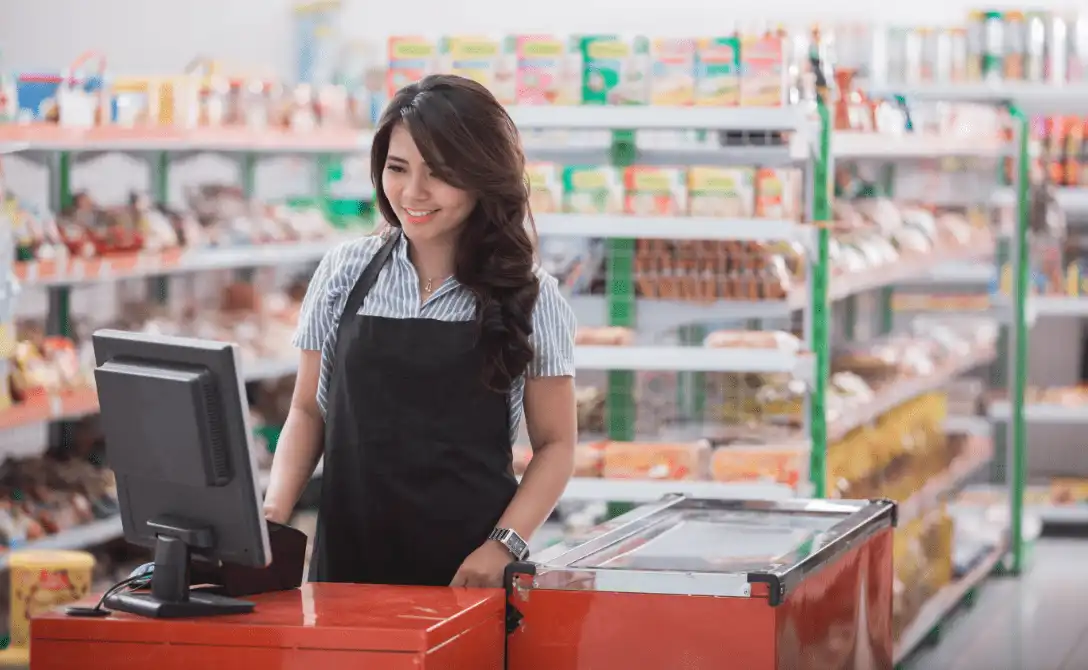 Many CPGs are missing out on significant revenue growth with traditional revenue growth management (RGM) activities that are counterproductive in the shifting modern retail landscape. These companies are confronted with the ability to stay in the game and achieve profitable top-line growth, besides breaking even on promotion effectiveness.
Nielsen IQ research shared in a webinar indicates that in the USA, online penetration in CPG was 53% in 2020 compared to 36% in 2019, as shoppers chose online shopping for being safe, convenient and economical. Retail e-commerce sales in 2020 jumped by 26.3% in Western Europe Retail Trends 2021, with growth expected to be marginal as physical retail recovers. Change in consumer behavior and increased brand switching is another phenomenon that CPG companies and retailers have had to deal with throughout the pandemic. A recent survey (How to grow brands in times of rapid change) reveals that 40% of consumers have switched brands or the way they shop. The predictable consumer who existed before the pandemic has close to disappeared. Further, merely resetting a price and promotion strategy is clearly not enough with rising input costs and continued CPG supply chain disruption.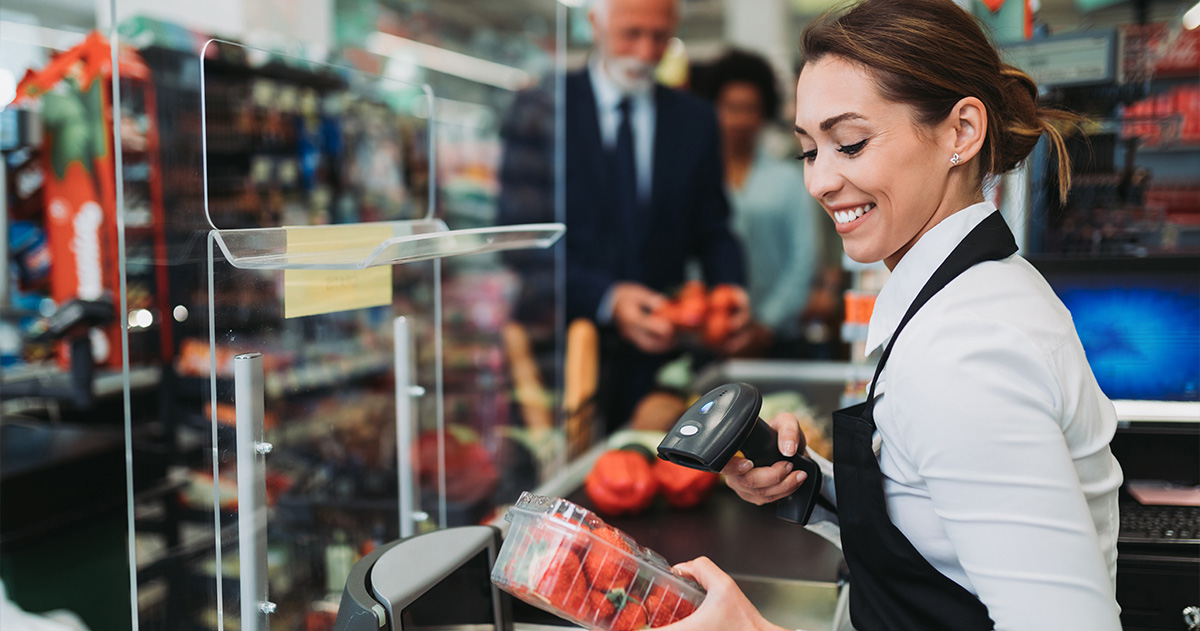 Shortcomings of traditional Revenue Growth Management in CPG
Traditional Trade Promotion Management (TPM) and scenario-based Trade Promotion Optimization (TPO) were used in earlier Revenue Management (RM) strategies to improve promotion efficacy and daily pricing within a single retailer. However, the retail landscape has changed dramatically in recent years, making promotion planning a difficult undertaking. The new omnichannel environment requires more creativity and flexibility for retailers' promotions and pricing strategies across channels to work effectively.
Traditional Revenue Growth Management in CPG has saddled companies with:
No single version of truth: Companies lack holistic consumer insights despite being flooded with data from diverse touchpoints. Their functional teams still work in silos with different data sets, which means they don't have access to all data points necessary for making strategic decisions across functions - this leads companies astray when trying to develop an aligned strategy.
Lack of 360-degree views of data: Depending only on historical consumer insights is unproductive and gives a skewed view of only past consumer behavior. With the proliferation of modern retail channels, consumer behavior and buying patterns have changed completely. That is why robust revenue growth solutions are necessary to transform CPGs and become data-driven.
Siloed customer planning: Individual customer account teams still plan in isolation, resulting in conflict and mismanagement. Trade planning is further hampered by the inconsistency between field and back-office staff utilizing different revenue growth management platforms. Some teams are still dependent on manual processes, not conducive for meeting time, accuracy and effectiveness. On the other side, revenue growth consulting based on cpg data insights can assist CPG teams in developing robust enterprise-wide consumer planning.
Cash flow reductions: Narrow trade planning by remaining in the comfort zone of focusing only on high growth categories or urgent and most important customer segments results in lower cash flow and shareholder value.
Lack of good business intelligence: Business Intelligence (BI) tools designed for manual analysis and visualizations have limitations like automatically evaluating the causal factors for the sales decline in particular categories.
Unsustainable quick-win strategies: Many new CPG companies find themselves resorting to quick-win strategies as these are high impact and low on effort. While they offer instant motivation and expectations from management every time, they are not scalable or sustainable in the long term.
These common pitfalls have necessitated CPGs and retailers to rethink category consumption, brand preference, channel selection, shopper frequency and media engagement. Revenue growth solutions from a trusted partner can assist CPG businesses to overcome these shortcomings across the RGM spectrum and lower enterprise risk.
With the right revenue growth management consulting, CPG teams can establish competitive and sustainable RGM plans and capitalize on revenue growth opportunities.
Build repeatable, high-impact solutions to power your global strategy with CPG data analytics and AI consulting. Know more here.
Scaling growth by adopting AI and Analytics with prescriptive Revenue Growth Management in CPG
Revenue growth management or RGM is an integrated analytics approach covering pricing, trade promotion analytics activities and assortment at the consumer and enterprise levels, across all channels, to fuel profitable top-line revenue growth. Today, revenue growth solutions can create enterprise benefits to the tune of 3-5% of the gross profit while creating value for consumers.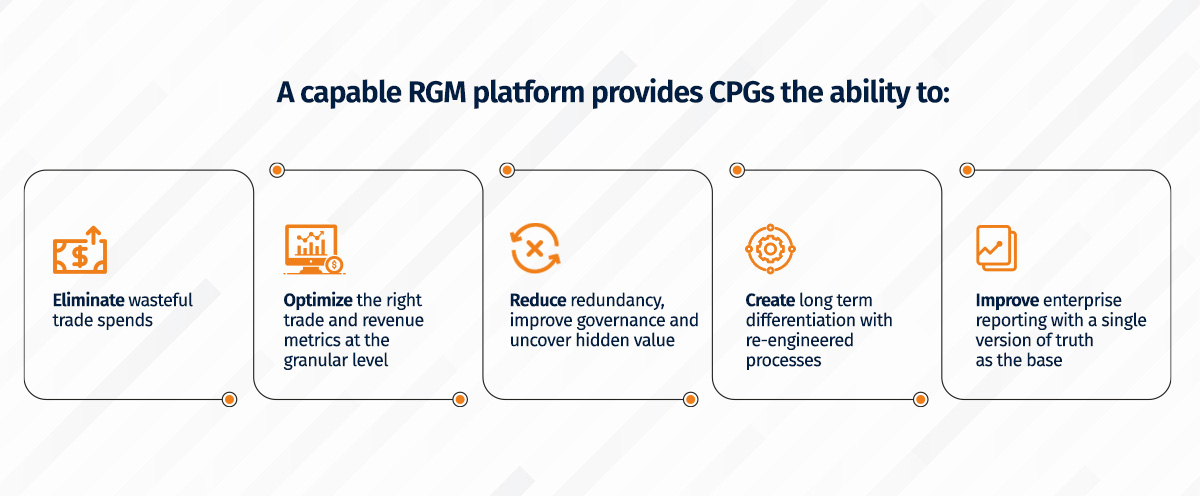 A capable RGM platform provides CPGs the ability to:
Eliminate wasteful trade spends
Optimize the right trade and revenue metrics at the granular level
Reduce redundancy, improve governance and uncover hidden value
Create long term differentiation with re-engineered processes
Improve enterprise reporting with a single version of truth as the base
The sweet spot for CPGs to meet the strong rebound in consumer demand is modern revenue growth management.
Trade spending accounts for 20-30% of gross sales and is the second most important line item in P&Ls after cost-of-goods sold. CPGs need to build new capabilities to extract more value from their RGM strategy. It is essential for their growth. However, they must understand the transition from traditional channels to omnichannel. To drive growth, they need to adopt AI and analytics.
AI, as we know, augments human effort for better decision-making. Enter the AI and Analytics factor in RGM and you get a new game-changer in revenue growth management solutions. AI can sift through reams of data, discern behavior patterns, find problems and opportunities, and evaluate trade-offs and suggest recommendations for the future – a perfect recipe for prescriptive revenue growth management. Tredence's RGM solution can help CPGs attain profitable revenue growth and become a best-in-class company.
Our CPG teams are well equipped to give you high-impact solutions. Learn more.
Why do CPG enterprises need a custom-built AI and data analytics platform for 360-degree consumer visibility and digital-led decisioning
Many leading-edge CPGs have mastered the key elements of revenue growth management, raising the bar for the competition. The multitude of product categories, channels and retailers, multiple moments of truth of numerous customers in the same households and disparate functional views across the enterprise hamper CPGs' decision-making capabilities. This is impacting potential profitability.
A need of the hour for CPG leaders is predictive demand that aids them in brand, campaign and activation plans, pricing, assortment optimization, and build a robust distribution strategy. Tredence's revenue growth management platform can be tailored according to CPGs specific needs – from developing pricing and promotion strategies through activation plan design to optimizing assortment process and operationalizing AI at scale.
Build a clear, effective and adaptive pricing strategy (Pricing optimization)
A significant slice of trade spend goes into retail partner demands or is competition-led. Now, to have a profitable revenue growth management strategy, CPGs need to identify distribution gaps. Our team helps you understand consumer psychology, re-look at pricing assumptions, identify pricing gaps, perform a real-time comparison with competition, and help you build effective pricing analytics and strategies. In addition, the platform's AI engine provides real-time prescriptive recommendations.
Optimize your distribution strategy
Grocers remain the main retail trading partners for CPGs in most markets. Physical store sales have been making a rebound, thus bringing on-shelf availability solutions back into focus. With grocers also embracing e-marketplaces in the last two years, CPGs need to extend their distribution channels to ensure on-time availability every time. Our revenue growth management consulting team helps you create a profitable RGM strategy by building and scaling a consolidated system for promotions, costs and timings, while preventing channel cannibalization.
Design a competitive and responsive assortment strategy (Assortment optimization)
Assortment optimization is one of the most difficult elements to master for CPGs, pushed by relentless pressure from retailers. Charting a winning assortment strategy is a critical capability to maximize growth. Here's where advanced recommendations on assortment at the point of sale plays a crucial role. Our CPG data analytics helps you adapt to market opportunity and the regional-channel-occasion interlock amongst other strategic areas. Our team helps demystify and empower you with winning assortment optimization strategies.
Adopting an AI-led RGM platform is particularly useful for CPG companies to outclass personalized consumer table stakes, create a new and long-term differentiation, renew customer path-to-purchase and thrive in the future.
Connect with our revenue growth management consulting experts to make your organization data-driven and drive top-line growth with strategic decisions across pricing, channel coherency, trade promotions management and product assortment.
Detailed Case Study
Driving insights democratization for a $15B retailer with an enterprise data strategy
Learn how a Tredence client integrated all its data into a single data lake with our 4-phase migration approach, saving $50K/month! Reach out to us to know more.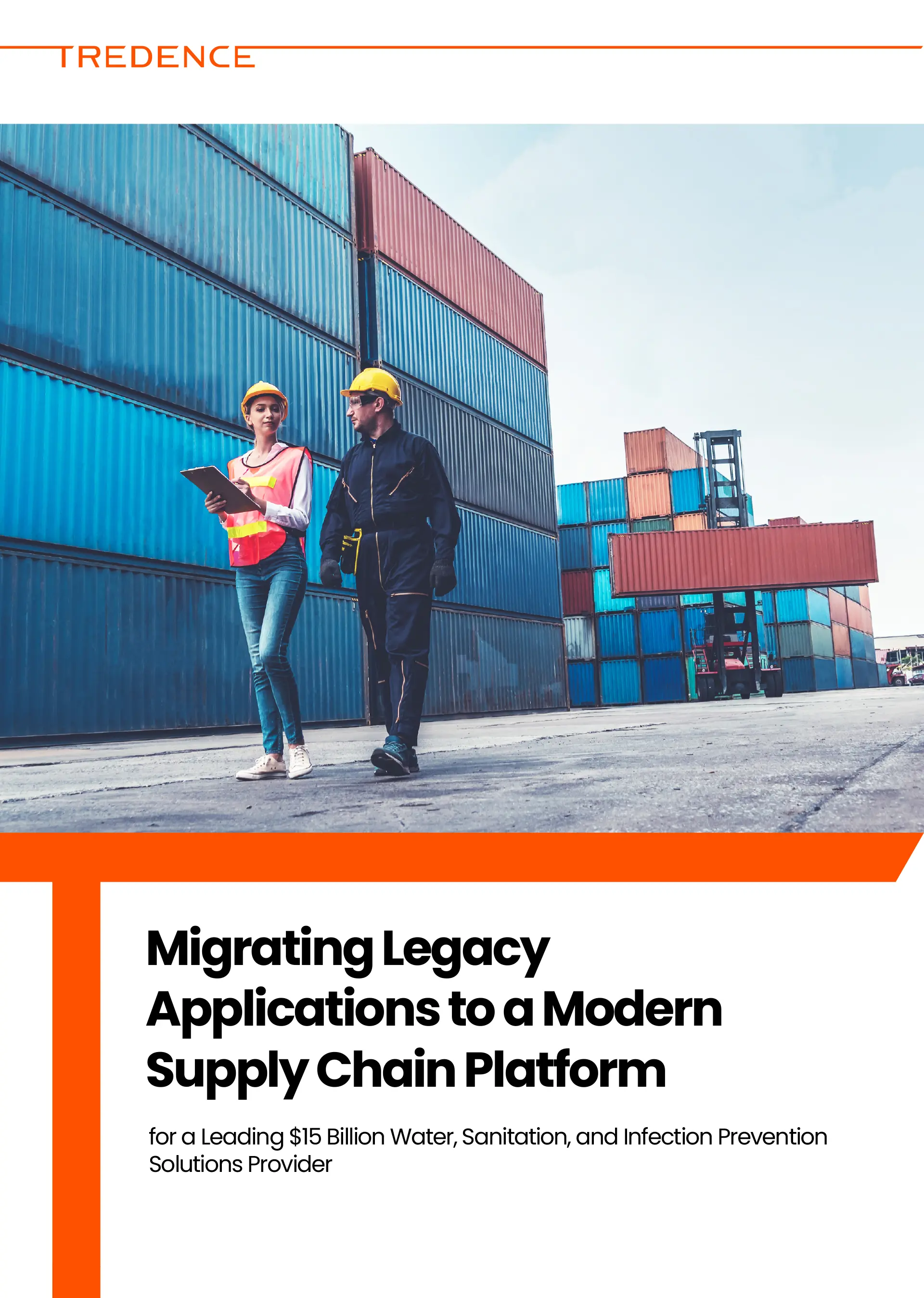 Detailed Case Study
MIGRATING LEGACY APPLICATIONS TO A MODERN SUPPLY CHAIN PLATFORM FOR A LEADING $15 BILLION WATER, SANITATION, AND INFECTION PREVENTION SOLUTIONS PROVIDER
Learn how a Tredence client integrated all its data into a single data lake with our 4-phase migration approach, saving $50K/month! Reach out to us to know more.