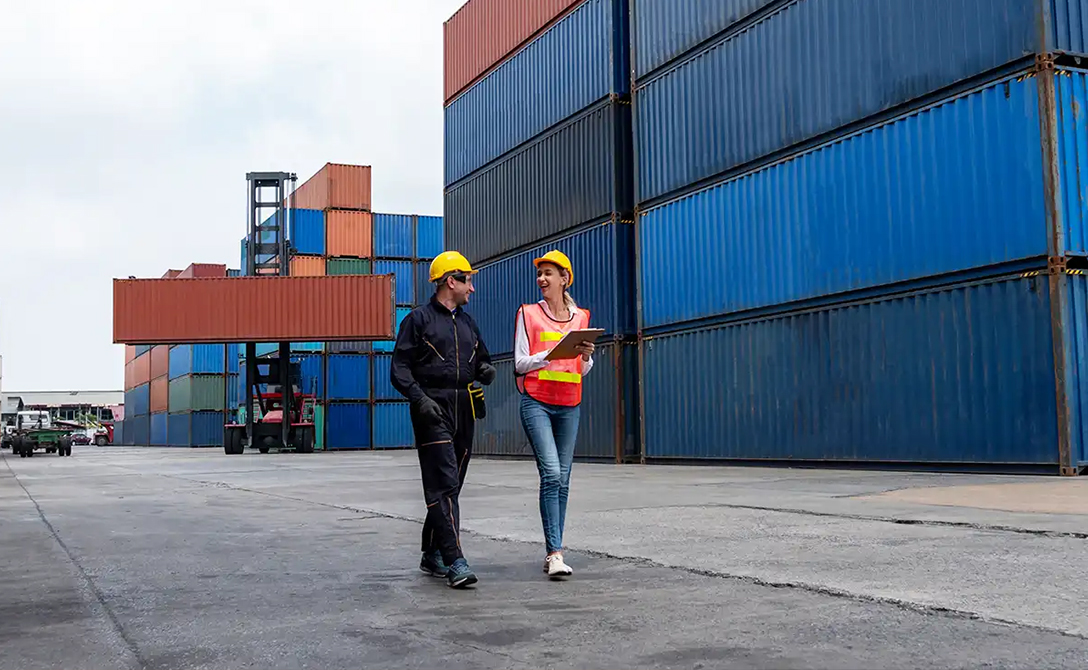 McKinsey estimated that within the future decade, close to half (45%) of a year's profits would be eroded by supply chain disruptions and that even a disruption lasting just a month could equal losses of 3-5% EBITDA. Today, 60-85% of manufacturers are planning to act on these challenges by planning significant changes to their inventory management strategies, but the challenge is that 83% of executives say their supply chain technology haven't fully delivered expected results.
AWS, Databricks and Tredence are working to de-risk supply chains with data and AI by simplifying digital transformation, delivering data + AI solutions faster, and hence delivering superior ROI. Predictive Supply Risk Management, built with the Databricks Lakehouse Platform and AWS's advanced set of cloud solutions delivers a near-real time visibility into at-risk in-transit shipments and downstream impacts, leverages risk prediction models that account both internal and external factors and exploits prescriptive analytical models and simulation layers to help supply chain cost reductions.
To mitigate or outrightly remove supply risks from a business or enterprise, the data that they generate or consume must be understood. Real-time streaming data from logistics and transportation vehicles, packages, and workers, from as example route optimization and capacity planning, has different architecture, data model and scalability need than compared to low volume batch goods originated in discrete manufacturing shipments. AWS, Databricks and Tredence have cloud solutions, data wrangling and deployment solutions to address enterprise supply risk.
The Predictive Supply Chain Risk Management engine uses ML algorithms and various Internal and external data sets to mitigate supply risk with these tools:
Inbound Order Delay accurately predicts inbound ETA all inbound potentially delayable purchase orders due to various internal and external factors and that determines downstream impact.
Near Realtime Shipment Tracking provides near real-time visibility to all your inbounds & purchase orders with alerts to flag potential delays
Stockout Risk Prediction allows the sourcing team to proactively identify which materials are at a risk of stocking out due to macro and operational supply disruptions in advance so that mitigation steps can be taken.
Dynamic Inventory Planning uses a dynamic inventory planning engine for predictive optimal stock plan recommendations.
Dynamic Fulfillment optimally Identifies distribution center fulfillment orders based on material availability and cost optimization.
The Architecture
p-SRM is a white box purpose-built solution that can be tailored to the specific needs in the supply chain risk management, whether it be in global nature of semi-conductor or automotive discrete manufacturing, or the continuous process used on the manufacture of domestic source of recycled aluminum roll stock. AWS, Databricks and Tredence have built the following architecture and has the capability and scalability to:
Ingest batch and streaming data from internal data sets such as purchase orders, materials stock status and location residing in your ERP and MES systems (IoT devices too); and external data sets including weather patterns, port congestion info, or unstructured social media data
Clean and refine data, in one open-source location ingesting raw data and history, filtering, curating, and harmonizing the data.
Developing advanced analytics use cases using MLflow, and SageMaker.
Provide predictive recommendations through web based applications or business intelligence systems like Tableau or ThoughtSpot
Know that p-SRM is powered by Tredence's ATOM.AI which speeds ML and AI solution build and deployment by 50 percent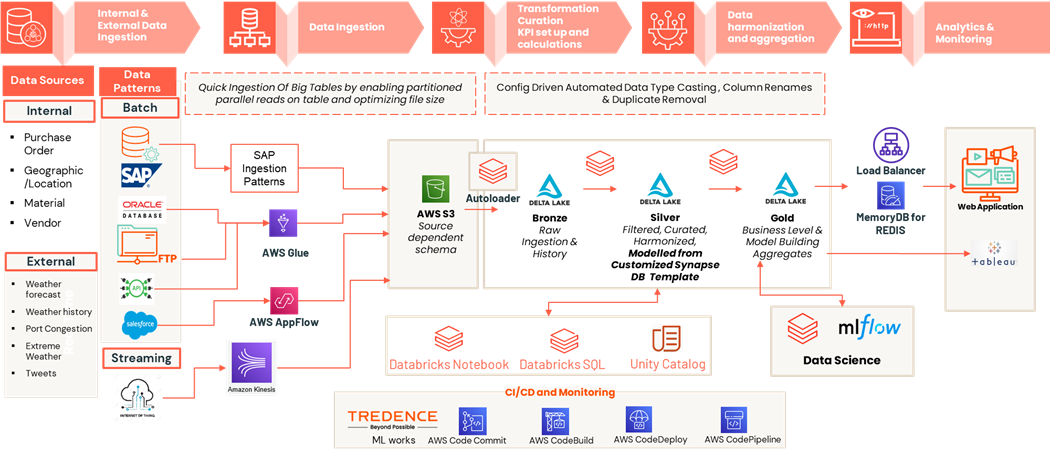 Delivered Value with AWS. Databricks and Tredence
Lower IT/OT Costs
Building AWS and Databricks cloud native solutions allows the enterprise to focus on improving business operations and innovation, not just IT and OT infrastructure related ops. AWS pay-as-you-go microservices and the AWS and Databricks serverless computing models reduce the cost of running your connected plants, supply chains or connected product programs.
Innovate Faster
AWS and Databricks offer a broad set of cloud-based products including compute, storage, analytics, IoT, and governance & security. Running these services in the cloud allows your data engineers and designers to solve problems quickly - accelerating time to market. In addition, P-SRM and the Tredence solution accelerators are built on ATOM.AI, an end-to-end AI accelerator that speeds and simplifies data and analytics modernization.
Improve Operations
AWS, Databricks and Tredence make it easy to build and tailor data strategy by allowing secure storage, categorization, and analyze all your data in one, centralized repository. The Databricks Lakehouse Platform running on AWS powers real-time and predictive analytics to improve overall equipment effectiveness (OEE), service levels, product quality, and supply chain efficiency. Tredence's p-SRM solution provides inbound order delay visibility, near real-time shipment tracking, stockout risk prediction, dynamic inventory planning and fulfillment.
Enhanced Security
AWS delivers a common governance model based on open standard ANSI SQL, simplify governance for files, tables, dashboards, and ML models on any cloud by defining access policies once at the account level and enforce across all workloads and workspaces. Databricks' Unity Catalog provides centralized fine-grained auditing by capturing an audit log of actions performed against the data and helping to meet compliance and audit requirements. Tredence builds all its solution accelerators on the clients' AWS and Databricks environment removing risk associated with proprietary or black box solutions or the risks associated with the disclosure of proprietary business and process information.
Delivering Real-World Value
A recent client, one of the largest CPG companies, was experiencing disruptions in supplies due to multiple supply chain challenges and which was inducing stockouts. The sourcing team worked to proactively identify where stock-out materials risk existed due to macro and operational supply disruptions it could be mitigated.
Tredence deployed an easy to consume supply risk monitor with the following capabilities components:
Predict lead time considering:

Operational aspects including quality, order attributes and vendor attributes
External disruptors including extreme weather, port congestion, traffic, other supply chain disruptors

Calculate Stockout Possibility Score (SPS) to assess the risk using below two inputs:

Item metrics
Dynamic market risk
The p-SRM solution delivered:
$90m in identified revenue loss due to stockout risk in 6 months
80% lead time accuracy
150+ materials risk visibility over a rolling 26-week window
~78% stockout prediction accuracy
Want to learn more? Jack Porco (Customer Delivery Architect) from AWS, Shiv Trisal (MFG GTM Leader) and Bala Amavasai (MFG Technical Director) from Databricks and David LeGrand (Partner Development) and Bhaskar Seetharam (Supply Chain SME) from Tredence will be at the upcoming April 17-21st Hannover Messe event and available to discuss the entire ecosystem powering supply chain risk mitigation.
You can contact the authors at:
David LeGrand at Alliances@tredence.com
Detailed Case Study
Driving insights democratization for a $15B retailer with an enterprise data strategy
Learn how a Tredence client integrated all its data into a single data lake with our 4-phase migration approach, saving $50K/month! Reach out to us to know more.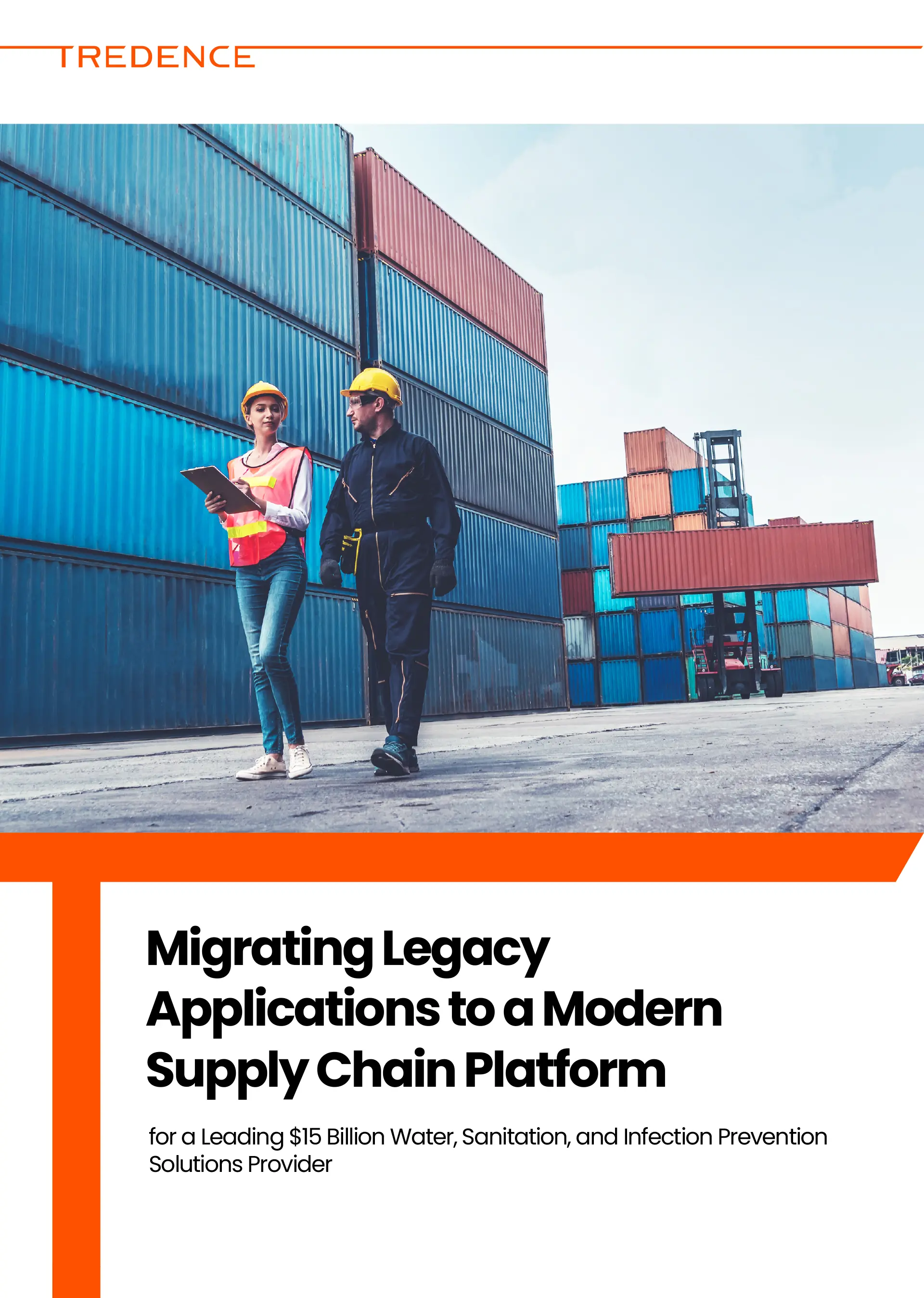 Detailed Case Study
MIGRATING LEGACY APPLICATIONS TO A MODERN SUPPLY CHAIN PLATFORM FOR A LEADING $15 BILLION WATER, SANITATION, AND INFECTION PREVENTION SOLUTIONS PROVIDER
Learn how a Tredence client integrated all its data into a single data lake with our 4-phase migration approach, saving $50K/month! Reach out to us to know more.