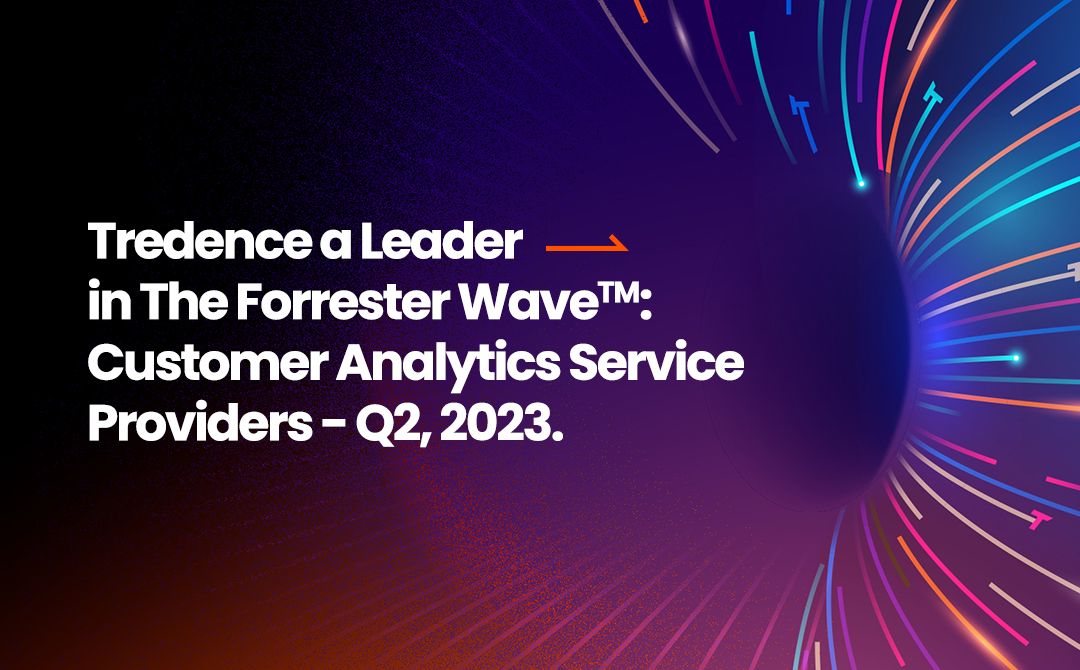 Customer analytics have never been more important, enabling firms to personalize experiences, deepen loyalty, and unlock new revenues and profitability. In addition, firms are using analytics to modernize business models and create new monetization opportunities.
The Forrester CX Index™ finds that improving the customer experience (CX) by just 1% can unlock annual incremental revenues of $619 million for retailers with 100 million customers. Yet CX quality dropped for 19 percent of brands in 2022, putting vital customer relationships and profitability at risk, according to the index. As a result, there is an opportunity for CX leaders to create extreme competitive advantage by using analytics to evolve customer journeys and transform their businesses.
It is against that market backdrop that Tredence is pleased to announce that it has been positioned as a Market Leader in The Forrester Wave™ Customer Analytics Service Providers report for Q2 2023.
Forrester evaluated Tredence and other analytics companies against criteria grouped into three categories: current offering, strategy, and market presence. Tredence was one of providers positioned as a Leader out of 11 vendors which were evaluated for this report and 4 which got positioned as leaders.
Tredence received the highest possible scores for 13 criteria, including: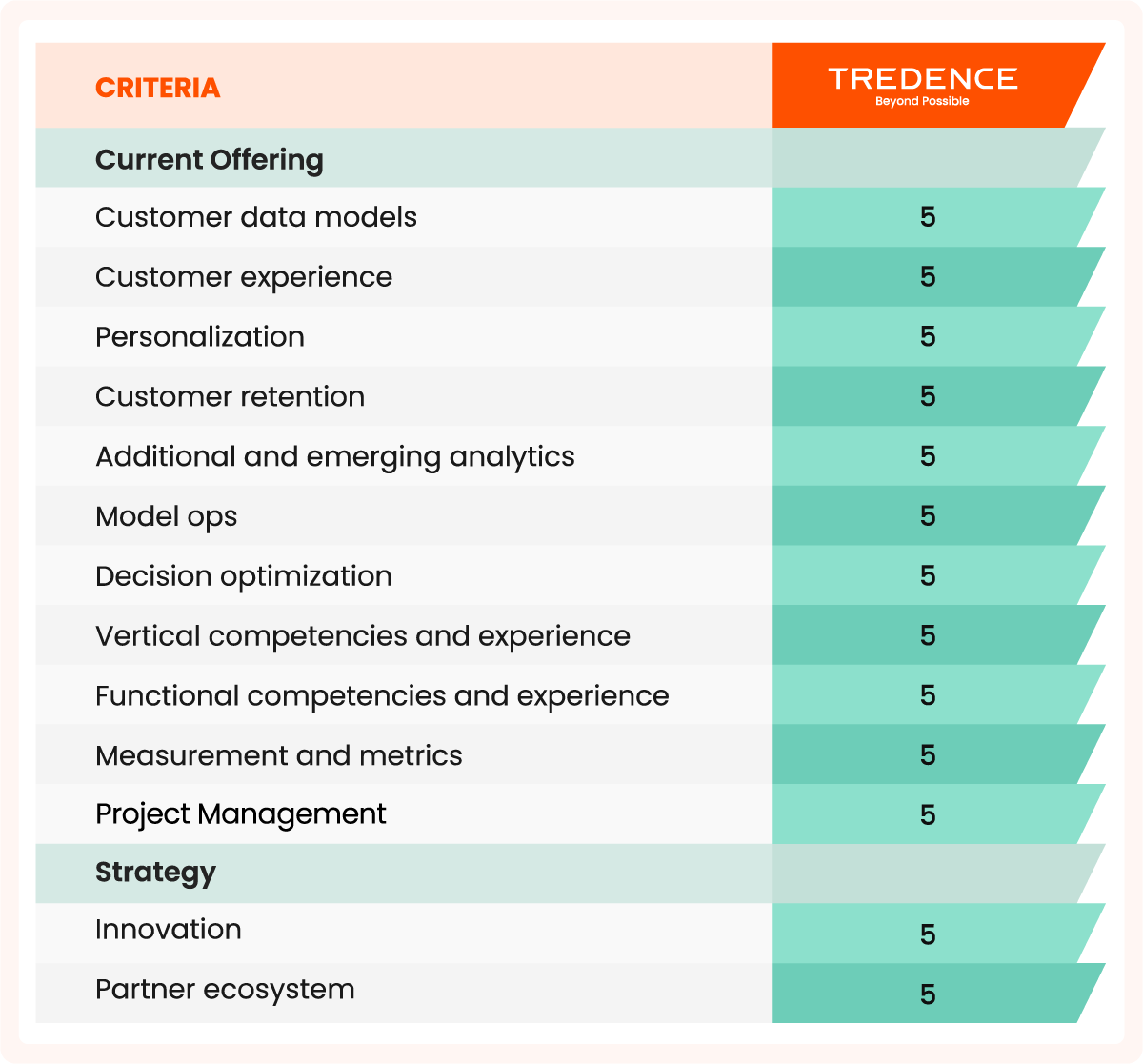 What Forrester Says About Tredence's Approach and Services
As per Tredence profile in the report, Forrester vice president and principal analyst Brandon Purcell says:
"Tredence transforms CX through industry-specific analytical expertise. The company's vision to enable true CX transformation includes not only customer-facing functions, but other necessary operational domains such as pricing and merchandising as well. Tredence offers strong vertical and domain specific consulting services, identifying and capitalizing on new opportunities such as retail media networks. Enterprises looking to transform CX across functional areas of the business leveraging cutting edge analytics should consider Tredence."
5 Reasons We Think We Were Selected as a Leader in the Forrester Wave™
Here are five reasons we believe that we were selected as a leader:
Delivering both functional and vertical expertise:

Our Forrester-recognized capabilities include a broad talent bench of experts who provide data foundation, analytics and artificial intelligence (AI), and activation and optimization services.

Enabling last-mile adoption of customer intelligence:

Our 10 industry-specific and 40 domain-centric customer data models and accelerators, based on Customer Cosmos on the ATOM.AI platform, have helped clients reap new ROI across multiple business functions.

Driving personalization forward:

Tredence has activated 50+ personalization mandates for enterprises at various levels of maturity, ranging from channel-specific recommendations to next-best actions.

Facilitating command and control:

Brands use our

industry-leading

CX Control Tower suite to measure, diagnose, and manage omnichannel customer experiences.

Teaming with world-leading partners:

Tredence collaborates with partners, including hyperscalers, data and AI independent software vendors, and third-party data firms, to facilitate the conception, co-engineering, go-to-market and delivery of CX transformation solutions in focus industries.
This approach is resonating with the market and it is evident by our customer testimonials. Tredence partnered with Casey's to establish a data and analytics center of excellence. Pierre Hakim, Vice President of Data Analytics at Casey's, says, "It was the moon that we wanted to go to, because the cloud didn't seem like a high enough goal and getting the right partnership is a very big deal here!"
What Our CEO Has to Say About the Forrester Recognition
"Global brands are increasingly prioritizing last-mile adoption of analytics. By implementing and using data-driven solutions, industry companies can unlock the value of their data and AI investments at pace, transforming their businesses," says Shub Bhowmick, Tredence CEO. "We believe being recognized as a Leader in the Forrester Wave for customer analytics service providers underscores our commitment to developing impactful data models, platforms, accelerators, and algorithms that drive transformative outcomes for our clients' businesses. We remain eager to continue serving our global client base with end-to-end CXM offerings, creating new economic value for clients."
For our esteemed customers and readers, Tredence is offering complimentary access to The Forrester Wave™ report.
Detailed Case Study
Enabled Data-Ops on Cloud for a North American Telecom Giant
Learn how a Tredence client integrated all its data into a single data lake with our 4-phase migration approach, saving $50K/month! Reach out to us to know more.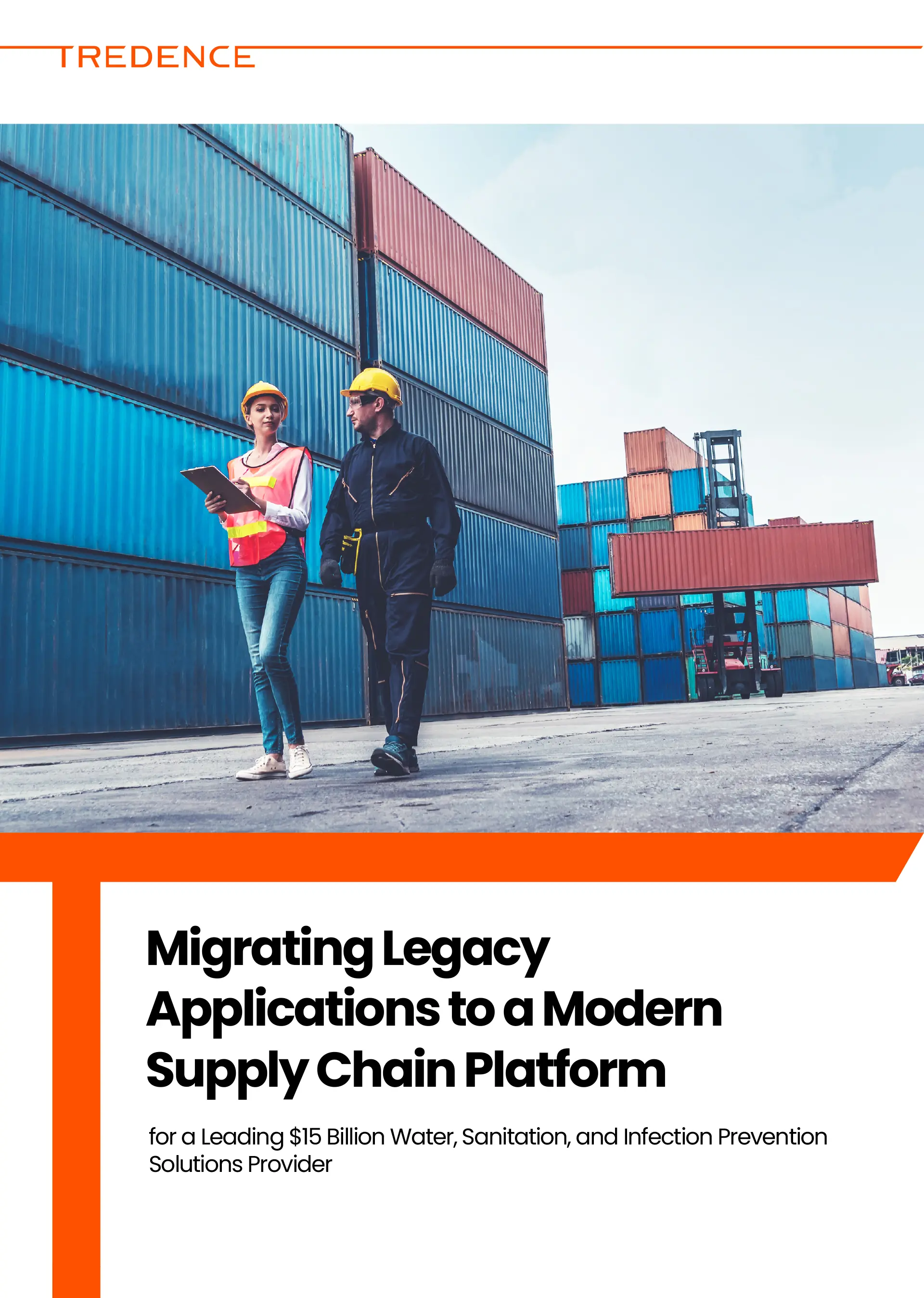 Detailed Case Study
MIGRATING LEGACY APPLICATIONS TO A MODERN SUPPLY CHAIN PLATFORM FOR A LEADING $15 BILLION WATER, SANITATION, AND INFECTION PREVENTION SOLUTIONS PROVIDER
Learn how a Tredence client integrated all its data into a single data lake with our 4-phase migration approach, saving $50K/month! Reach out to us to know more.