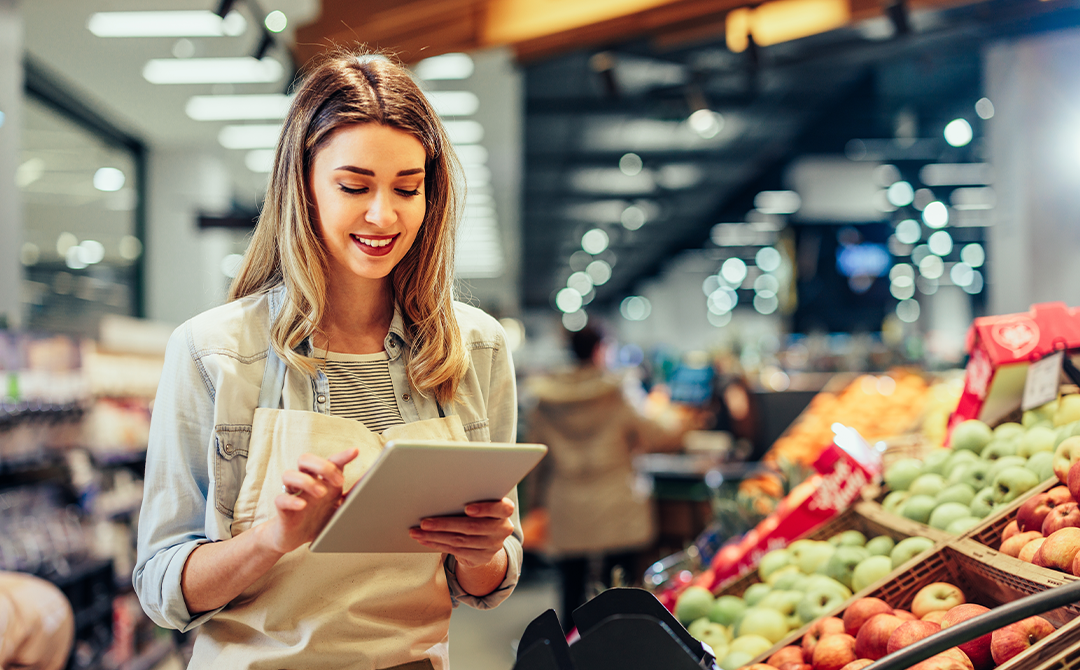 Imagine you are the pilot of an aircraft with a few hundred people onboard. The weather is unpredictable, and your aircraft is constantly at the mercy of the ever-changing weather conditions. One moment, you're gliding smoothly, and the next, fierce winds threaten to throw you off course. This is a lot like the volatile retail landscape we navigate today. In recent years, the retail environment has faced challenges from changing consumer behavior to supply chain disruptions, alarming industry leaders.
As a constant, most retailers grapple with erratic distribution challenges, an excess of unsought products, and, most critically, the pressing challenge of aligning with ever-changing consumer demands. Amidst this turbulence, a single factor differentiates successful retailers from the rest: agility.
For the retail industry, agility signifies the ability to swiftly and adeptly navigate changing market dynamics. Using just historical data for decision-making is no longer sufficient. Today's retailers leverage Retail AI technologies, using intelligent automation and predictive analytics to instantly understand market trends and customer preferences.
The Retail Evolution from Legacy Approaches to Data-Driven Success
In earlier times, retailers connected with customers through brick-and-mortar stores, sales teams, product branding, direct mail, and broad media campaigns.
Pricing was an art of negotiation, often influenced by factors like stock availability and market demand. Expert shopkeepers with a deep understanding of products and market dynamics played a pivotal role in setting prices.
The conventional supply chain was linear and inflexible, emphasizing mass production. Challenges were addressed manually, making it cumbersome, especially with large-scale production.
Today's retail scene is vastly different. Fast-paced product lifecycles and diverse consumer preferences demand robust and agile solutions. In light of these changes, we must ponder: Can technology redefine our approach to retail? If yes, which innovations should we integrate into our strategies?
Guiding Retailers Through the Storm: The Power of Retail AI Solutions
Much like a seasoned pilot navigating turbulent skies, retailers can find their path with the insights provided by Retail AI solutions.
It answers nagging questions like:
Which products should we stock?
What's the ideal quantity?
Are our promotions hitting the mark?
How can we optimize them in real-time?
AI-powered retail analytics services mitigate challenges from price optimization to customer experience enhancement and from demand sensing to supply chain issues. It acts as a virtual specialist team, guiding retailers and freeing them to concentrate on core operations. Leading retail players are harnessing the power of AI in retail operations. For example, Nike, amidst the e-commerce boom and evolving consumer tastes, turned to data-driven strategies to maintain brand loyalty and drive sales.
Big Players Lead, Small Retailers Follow: The AI Adoption Wave
Although it may seem that the leading retailers are the primary adopters of AI-enabled retail analytics solutions, the tide is shifting. Increasingly, even smaller retail businesses are recognizing the potential of AI and are eager to leverage its capabilities to meet the retail industry's challenges.
To better understand this shift, let's explore specific facets of retail where AI is making waves:
Dynamic Pricing: From Happy Hours to Retail Floors
The "happy hours" in bars is a classic example of dynamic pricing. By reducing prices during off-peak hours, bars attract more patrons, leading to increased sales. In the same vein, AI-driven algorithms now enable real-time adjustments in airline ticket prices as they fluctuate based on demand and other factors. When search volumes for a specific date surge, these algorithms swiftly recalibrate prices in response to the heightened demand. This AI-backed dynamic pricing allows brands to adjust prices in sync with competitors, ensuring competitive pricing without compromising margins.
To harness the full potential of dynamic pricing, businesses lean on AI to process vast, accurate, and real-time data. The days of relying solely on manual processes or intuition are fading, especially for large retailers tasked with making thousands of pricing decisions daily.
Today's AI-powered dynamic pricing is a departure from the fixed pricing of yesteryears. It's agile, adjusting in real time to both market trends and competitor movements. This AI-enabled approach resonates with modern consumers, who not only anticipate but also value frequent discounts and deals beyond just the traditional sale periods.
Strengthening the Retail Backbone: AI in Supply Chains
In the tumultuous world of retail, the supply chain function often goes unnoticed until turbulence hits. The fragility of the traditional supply chain was laid bare in recent disruptions, from trade tensions to Covid-related shutdowns. Images of congested ports and empty retail shelves during the pandemic are a testament to this vulnerability.
In the past, supply chains operated with limited visibility, often relying on manual tracking and periodic updates, leading to delayed decisions and reactive problem-solving. In stark contrast, today's leading firms tap into the benefits of connected, cognitive supply chains, offering unparalleled visibility across the value chain and enabling real-time decisions. Through AI-driven retail data insights, retailers can refine order fulfillment, strengthen market relationships, and fine-tune promotions.
This modern approach not only heightens efficiency but also builds resilience. In a world where supply chains stretch across vast geographies, AI platforms seamlessly integrate with various systems, ensuring immediate traceability of products. This empowers retail businesses to swiftly address challenges, such as product recalls, inventory discrepancies, and shipment delays.
Engaging the Modern Shopper: GenAI's Role in Personalized Retail
Generative AI (GenAI) is rapidly transforming the retail landscape, offering innovative solutions that go beyond mere gimmicks. Retailers are leveraging GenAI to create tangible value and drive revenue. One of the most significant shifts brought about by GenAI is its ability to generate original content, be it text, images, or even music, based on patterns identified in vast data sets.
Today, personalization in marketing communication is a given. When it comes to personalized messaging, GenAI is a game-changer enabling tailored marketing campaigns that reach individual consumers, adapting messages based on past preferences. For instance, a grocery shopper interested in deals might receive an email emphasizing value, while a gourmet enthusiast might get content highlighting the origin of food products.
Moreover, GenAI is being seamlessly integrated into retail platforms, offering personalized landing pages, product descriptions, and illustrations. Apparel retailers, for instance, can help customers visualize how clothing items might look on them using GenAI to modify their photos.
Customer engagement is also witnessing a transformation. Advanced virtual assistants, powered by GenAI, provide a more enriched experience for shoppers, understanding context from past interactions. Such technologies are revolutionizing search experiences on retail websites, offering multimodal search options, including text, voice, and even images.
GenAI is not for the distant tomorrow; it's about immediate, actionable insights that can drive retail success today. Retailers that embrace this technology now will gain a competitive edge, ensuring they remain at the forefront of customer engagement and drive significant business value.
AI-enabled Retail Analytics: The Catalyst for a Resilient Retail Future
AI, reinforced by techniques such as NLP, advanced analytics, and data science, is revolutionizing the retail industry from the ground up. It enables retailers to make more informed decisions, optimize operations, boost productivity and anticipate market shifts with greater accuracy.
In the post-pandemic retail landscape, AI-driven analytics has emerged as a guiding light, offering clarity and speed amid the myriad challenges the industry faces. Advanced retail analytics solutions are now pivotal in shaping strategies and ensuring operational efficiency.
Remember, a pilot's flying license may not always help him in the turbulent skies; he will have to depend on advanced instruments to safely navigate it. Similarly, retailers equipped with AI-enabled analytics are better placed to navigate the complexities of the modern retail landscape, ensuring a smooth journey to retail business success.
FAQs
1

What is the importance of data in the retail industry?
Data is pivotal in the retail industry as it drives informed decision-making, enhances customer experiences, optimizes inventory, and enables personalized marketing strategies, ultimately leading to increased profitability and customer satisfaction.
2

How does AI play a role in solving data challenges in retail?
AI-driven retail analytics processes vast amounts of data to provide faster and more accurate insights, optimize pricing strategies, manage inventory, and enhance customer experiences, acting as a multifaceted solution to various retail data-related issues.
3

What are the most common data problems retailers face today?
Retailers often grapple with bottlenecks related to data accuracy, security, integration, and analysis due to legacy systems and approaches. These bottlenecks can hinder the optimization of inventory, pricing strategies, and customer interaction models, impacting overall business performance.
4

Are there real-world examples of vendors successfully leveraging AI to address data issues?
Yes, AI empowers retailers with real-time shelf stock monitoring, efficient inventory management and more, transforming the conventional experience for customers. Walmart, for example, once struggled with real-time inventory management across its vast store network. With its AI-driven Intelligent Retail Lab, it now monitors stock levels seamlessly, ensuring product availability.
5

How can retailers get started with AI-powered data solutions, and what are the steps involved?
Retailers keen on AI integration should first pinpoint challenges AI can resolve, gain executive support, invest in requisite tech and talent, and gradually weave AI into their current systems. To streamline all of this, partnering with Retail AI experts like Tredence can help them significantly improve their data strategy and drive business value faster.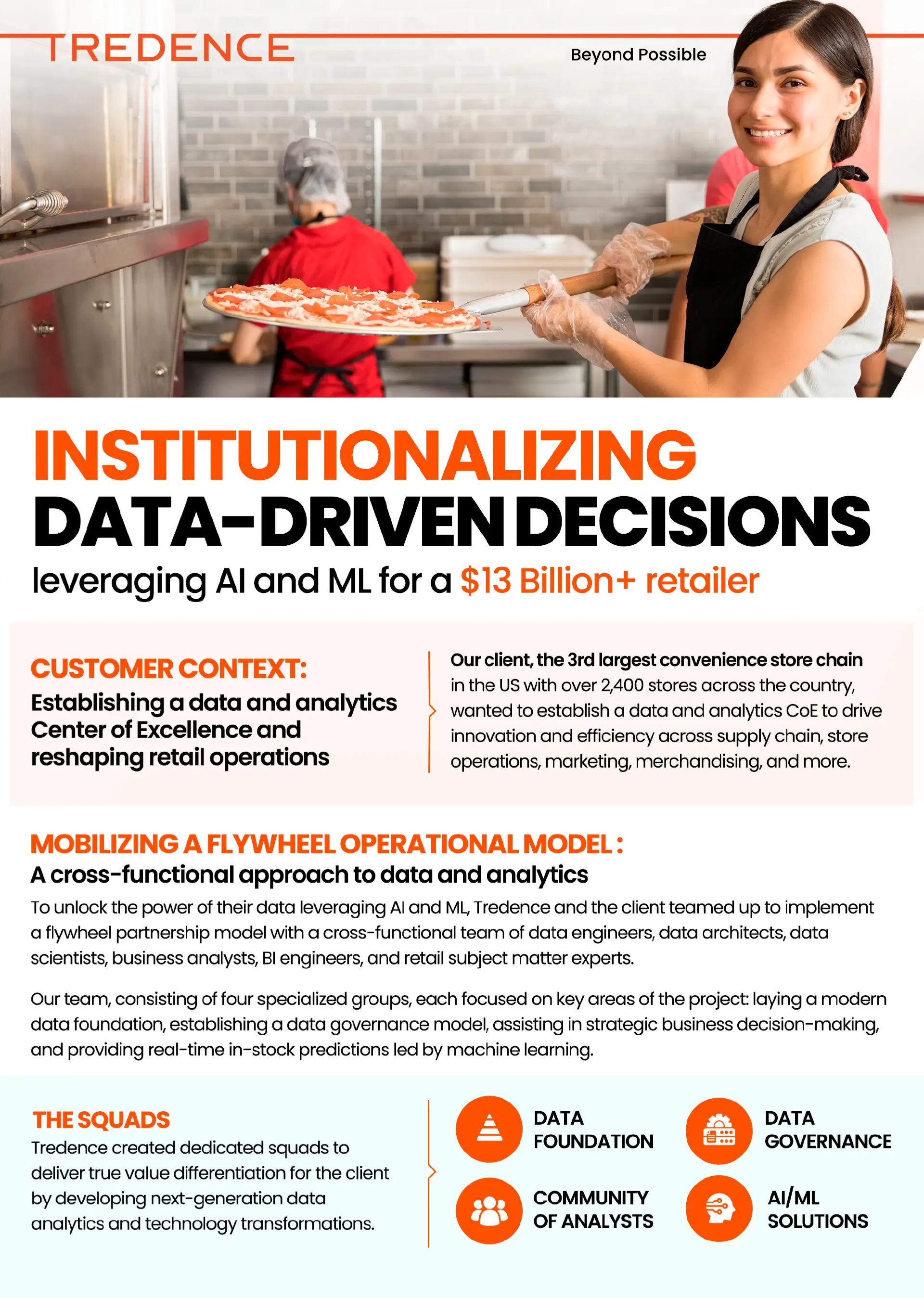 Detailed Case Study
Institutionalizing data-driven decisions using AI/ML for a $13 billion retailer
Learn how a Tredence client integrated all its data into a single data lake with our 4-phase migration approach, saving $50K/month! Reach out to us to know more.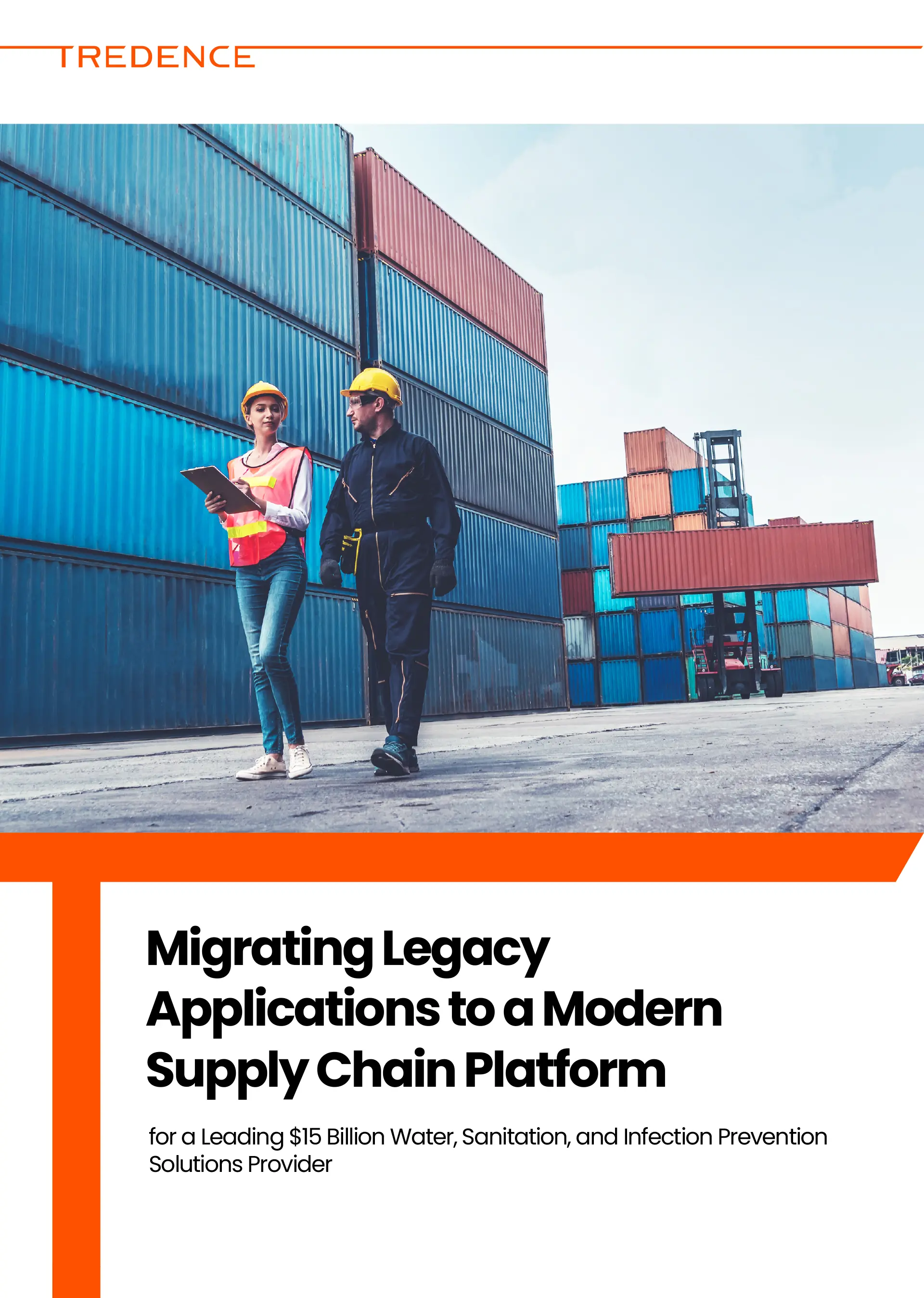 Detailed Case Study
MIGRATING LEGACY APPLICATIONS TO A MODERN SUPPLY CHAIN PLATFORM FOR A LEADING $15 BILLION WATER, SANITATION, AND INFECTION PREVENTION SOLUTIONS PROVIDER
Learn how a Tredence client integrated all its data into a single data lake with our 4-phase migration approach, saving $50K/month! Reach out to us to know more.