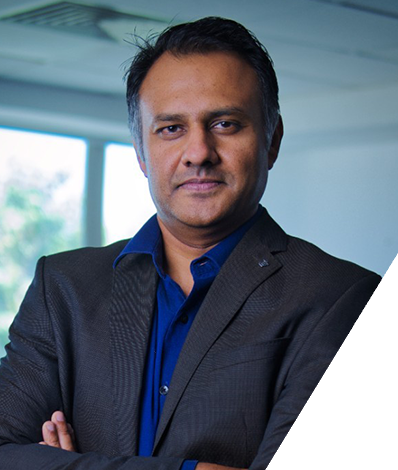 Shashikiran PB
Vice President – Supply Chain
"Transformation is the key for both an individual and a company to grow - a continuous and ever- evolving process."
Such was the case for Shashikiran PB (Vice President – Supply Chain), who joined Tredence in 2016 when the organization had about 85 Tredencians.
After working with i-flex, Miebach Consulting, Amazon, and Chai Point and a brief stint as a freelance consultant, he became aware of Tredence through Linkedin connects, who referred him to Malli and Shashank. He smiles, and quips that his interview process was a little odd, but very interesting. What intrigued him the most, was the final assessment round; he was involved in a brainstorming exercise on a live engagement that
went on for about 4 hours over two days - "I knew then and there that it would be an action-packed life from day one and I loved the prospect of it."
Between 2016 and 2018, while working on multiple projects and client accounts, he realized that the clients were brutally honest in conveying to us during our sales pitches that we weren't necessarily "selling" too well. However, they saw a unique value addition from Tredence: its impressive and smart talent pool who understood the pain points as if it was their own, and most importantly, not being salesey, but delivery focused.
An interesting anecdote he recollects is a client telling him once, "The quality of your work is worth more than three times the amount you have billed us - That made my day. The joy of being given this compliment for work was all-gratifying, and the actual prospect of billing three times more never occurred to us."
Transformation is the key to growth; he says he was going strong workwise and was getting the recognition he deserved. However, he was itching to start a supply chain practice (his first love!) within Tredence. A first for any analytics services firm in the industry. When he approached the founders with the idea, it was welcomed with open arms, and the team was started from ground zero. Brick by brick it was built, one person at a time and one project at a time.
Today, more than 100 Tredencians work on Analytics and Consulting engagements connected with the Supply Chain and Manufacturing practice. This growth has been possible primarily due to the rigor and attention to detail that Tredence brings to its work. The growth has been almost entirely organic, with clients taking the lead in engaging us for more work or referring us to their network of contacts.
"This story has just started. We are now entering the second phase of this journey which is even more exciting and will be at a much bigger scale" he says, with nervous enthusiasm.