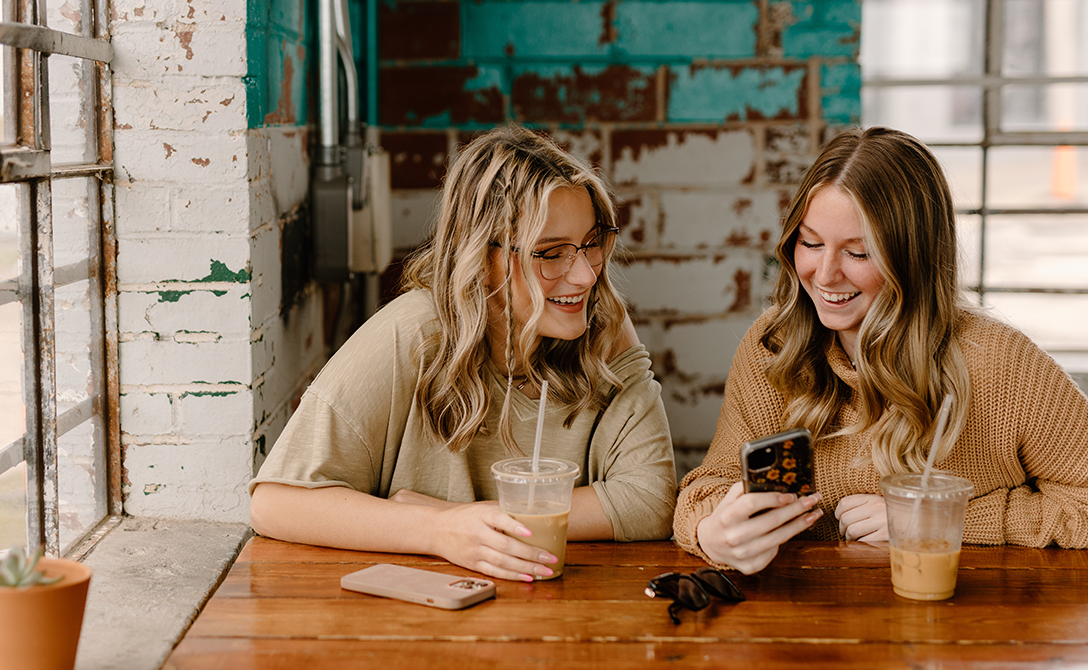 Telcos have responded with urgency to a never-ending demand for voice and data communications, in a post-covid world. They have extended network capacity and accelerated their digital journey, to accommodate the need for an agile way of working - in a virtual world. Organizations who have proactively adopted emerging technologies by digitally innovating and transforming their practices, are setting the stage to reap better ROIs.
The aftermath of the global pandemic has been impactful for every domain, including telecommunications. From challenges like network outages and congestion to security threats and customer churns, telcos are still busy addressing several pressing matters impacting their businesses. Therefore, telcos need to scale at an unprecedented speed to outpace competition.
With the surge in remote working and online engagements, increased network congestion and strained network infrastructure have been surfacing as one of the major challenges in the telecom domain. On the other hand, the rapid changes in customer intent, expectations and behaviors are forcing telcos to be proactive to adopt innovative technologies and propel digital solutions to the forefront.
According to a recent report, the global telecommunication market size was valued at $2866.61 billion in 2022. The market is expected to reach $3,818.36 billion in 2026 at a CAGR of 7.4%.
Here's how data science powered by AI/ML approaches and addresses these challenges:
Leveraging ML Algorithms for Network Optimization
Data science can be used to optimize networks in the telecom industry in a variety of ways. One example is using machine learning algorithms to predict network congestion and proactively allocate resources to alleviate it. In this aspect, network lifecycle management plays a significant role.
The network lifecycle management capabilities are essential for all types of telecommunication organisations. The process unifies the whole range of network planning and implementation responsibilities, from supply and demand planning through project management, cost and revenue modelling, and integration with business operations. Data Science can be leveraged to impact each factet of network lifecycle management process.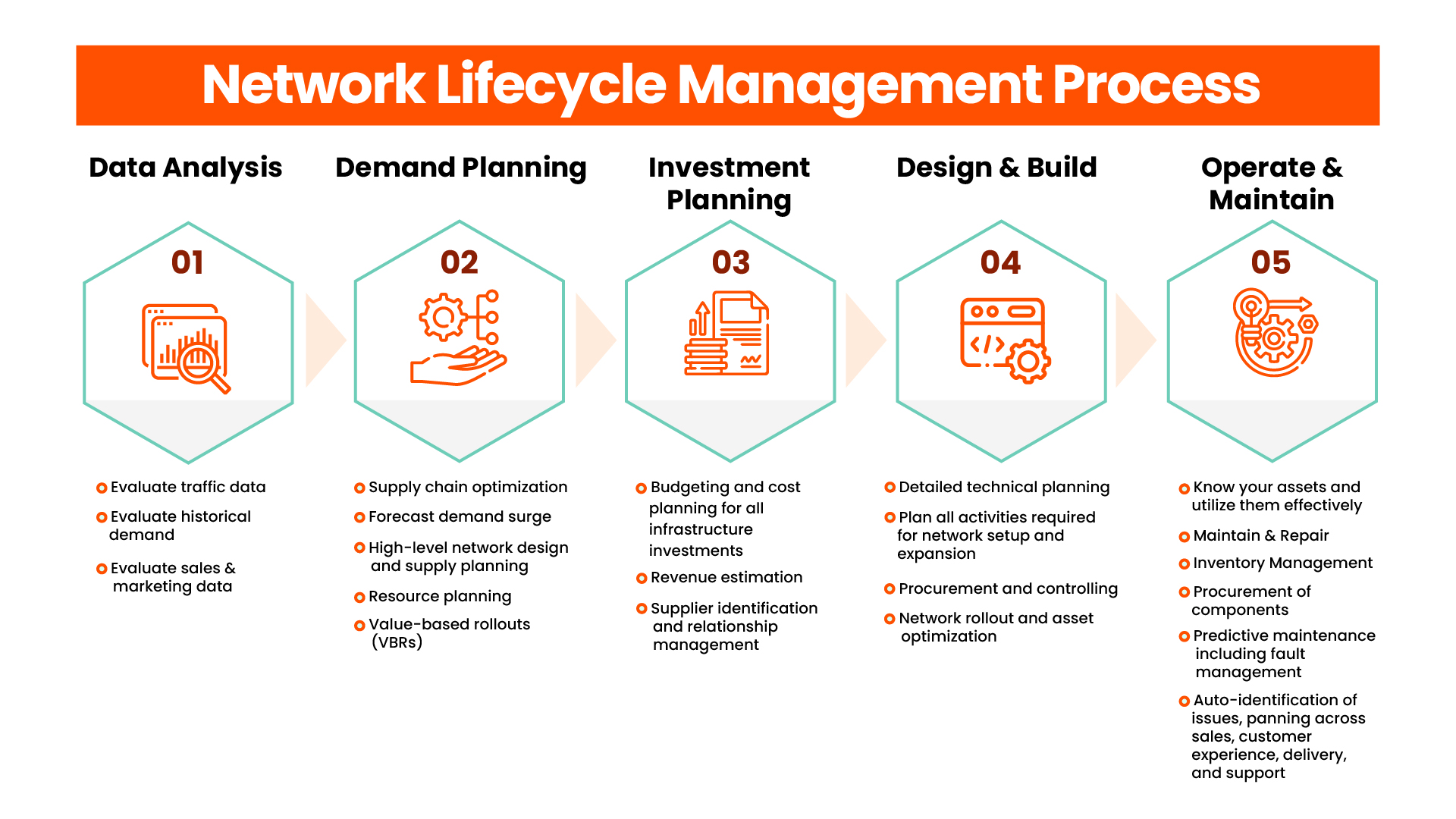 Clustering techniques can be leveraged to gain insights into network performance and identify areas of improvement. For example, using clustering algorithms to group similar cell towers based on their performance, traffic, and user behavior can help in optimizing the network by identifying problematic areas and finding solutions.
Additionally, data can be used to optimize pricing and marketing strategies, by analyzing customer data and predicting the most effective promotions. Solving network optimization problems in the telecom industry using data science can involve a combination of graph algorithms and machine learning techniques.

With new avenues opening in the telecom industry through 5G, decision-makers in telecom must cover the extra mile for network optimization. Leveraging AI/ML to automate this course with assist in addressing several challenges quicker, enabling higher productivity and accuracy.

Driving AI-driven Personalization for improved Customer Experience
Hyper-personalization refers to the use of advanced data analytics and machine learning techniques to create highly customized and individualized experiences for customers. In the telecom industry, hyper-personalization can be used to tailor services, offers, and communications to the specific needs and preferences of each customer.
For example, using data on customer usage patterns to offer personalized plans and packages or using customer data to personalize marketing communications.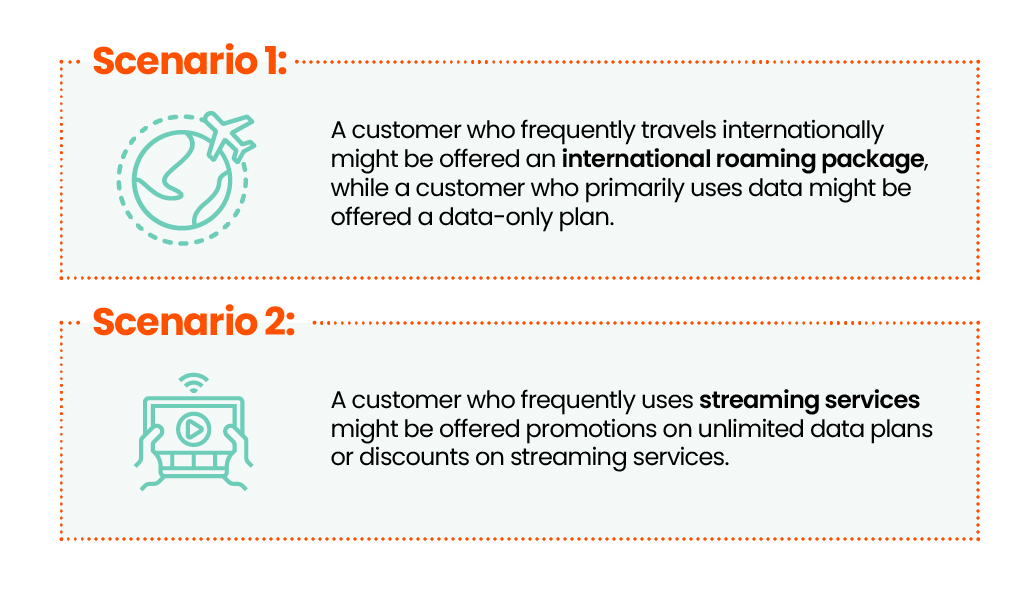 Additionally, hyper-personalization can be used to improve customer service by providing more personalized support based on customer history. For example, a customer who frequently contacts customer service for technical support might be offered more detailed technical support, while a customer who frequently contacts customer service for billing support might be offered more detailed billing support. Hyper-personalization can also be used for providing personalized offers for the customer, for example, providing free subscriptions of streaming services, discounts on international calls, or providing special discounts for the customer who has been using the service for a long time.
Overall, hyper-personalization can improve customer satisfaction and loyalty by providing more relevant and personalized experiences, while also helping telecom companies to maximize revenue and minimize costs.
Key takeaways:
The role of data science in network optimization is critical for communication service providers to assist them in optimizing network performance, significantly minimizing downtimes, and establishing robust security. In addition, improved customer experiences through hyper-personalization backed by machine learning, empowers telcos to optimize their marketing initiatives, thereby helping to maximize revenues and retain customers, resulting in strategic business growth.

Detailed Case Study
Driving trade promotions effectiveness with prescriptive insights for a global CPG firm
Learn how a Tredence client integrated all its data into a single data lake with our 4-phase migration approach, saving $50K/month! Reach out to us to know more.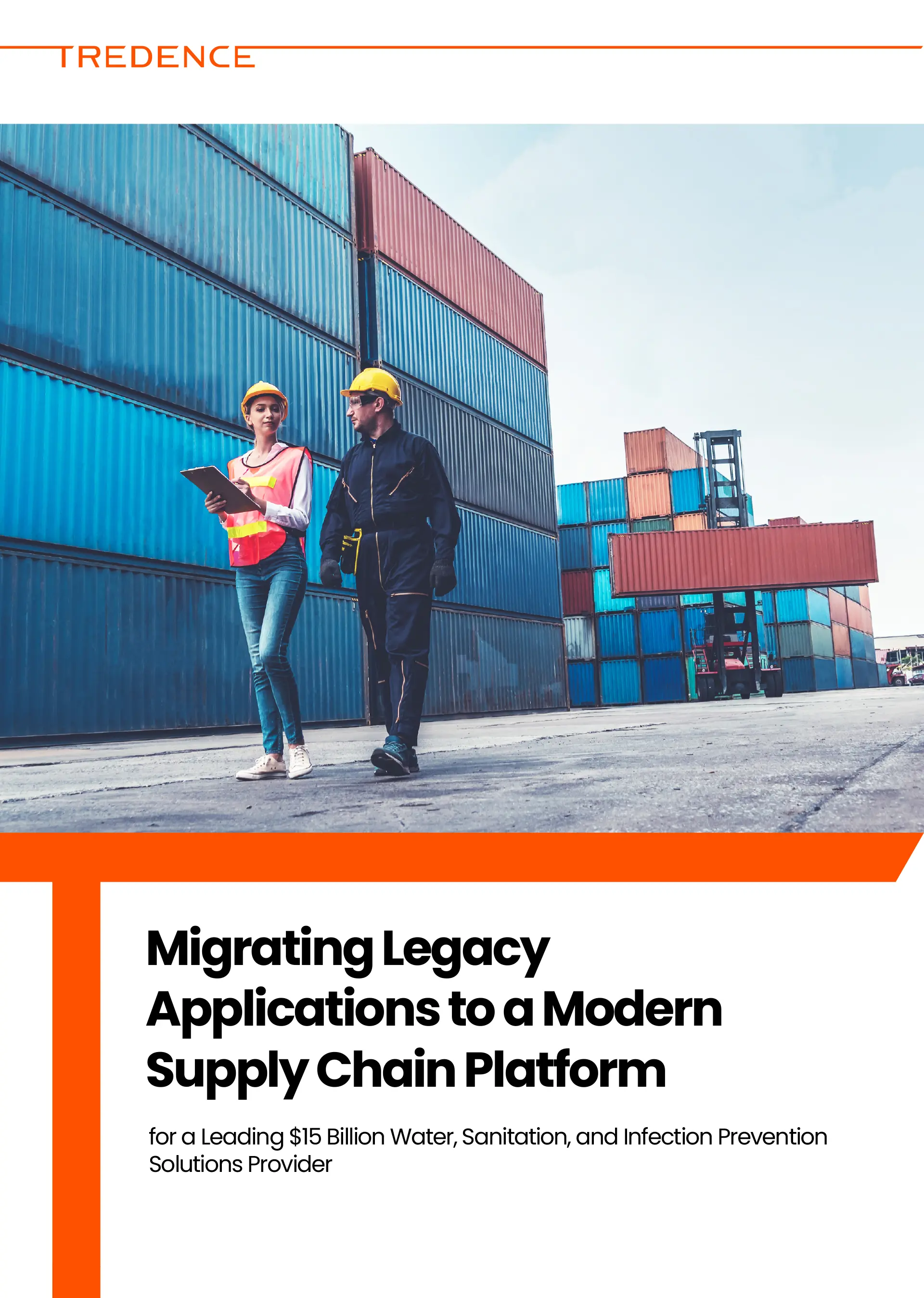 Detailed Case Study
MIGRATING LEGACY APPLICATIONS TO A MODERN SUPPLY CHAIN PLATFORM FOR A LEADING $15 BILLION WATER, SANITATION, AND INFECTION PREVENTION SOLUTIONS PROVIDER
Learn how a Tredence client integrated all its data into a single data lake with our 4-phase migration approach, saving $50K/month! Reach out to us to know more.
---
Next Topic
Unlocking Resilience in Turbulent Markets: Ensure Cost-take-out Measures with Advanced Analytics
---
---
Next Topic
Unlocking Resilience in Turbulent Markets: Ensure Cost-take-out Measures with Advanced Analytics
---