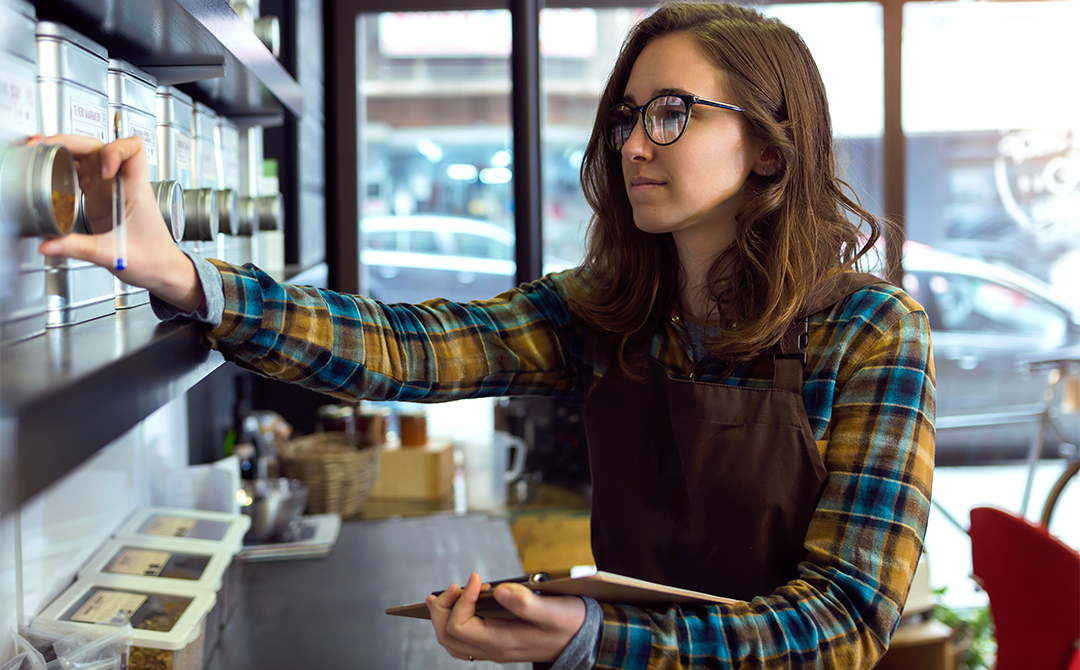 For years, business leaders have stressed the potential of advanced analytics to provide superior solutions to a wide range of business challenges. In the evolving retail space, retail analytics solutions are increasingly being sought to unlock the vast potential of AI-driven decision-making. According to a survey by New Vantage Partners, only over a quarter of participating organizations – 26.5% reported having created a data-driven organization, missing out on the vast, unfulfilled potential of AI.
Legacy data silos and disparate systems hinder retailers from unlocking the full potential of their data. This not only leaves substantial value on the table but also weakens their data resiliency.
Embracing data and analytics modernization, particularly through cloud-native architecture, is vital in today's competitive retail landscape, with a growing shift towards cost-saving initiatives. New Vantage Partners' report shows that a staggering 93.9% of organizations are set to invest in data. Likewise, nearly 92% of CDOs/CDAOs and data officers confirm that their organizations have achieved measurable business outcomes from data and analytics investments.
Productionizing a cloud-based enterprise data & analytics not only offers a strategic, competitive advantage, enhancing organizational efficiency through optimized costs, leading to both top-line and bottom-line growth. Retail analytics solutions play a central role in this transformation, bringing actionable insights to the forefront.
Retailers' Common Data Challenge: Data-Rich but Information-Poor
In their journey towards data platform modernization, retailers face a scattered data landscape, spanning on-premises, single-cloud, and multi-cloud environments. This disjointed data landscape poses significant challenges in establishing a unified, resilient data foundation – a cornerstone for data resiliency. The urgent task for retailers is to unify this data swiftly and effectively, cementing a solid data foundation.
Data Foundation Challenge: Establishing a solid data foundation is a hurdle due to the isolated nature of source systems and data warehouses. Moreover, the lack of clear data definitions and appropriate management strategies adds to the complexity.
Lack of Trust in Data Quality: The overall trust in data quality is wanting. This uncertainty ruins organizations' willingness to use the data for important analyses and decisions.
Self-serve BI Capabilities: Traditional BI teams act as data gatekeepers, building standard reports. This centralized approach obliges every department in a retail organization to funnel requests through this bottleneck – the BI team – to glean retail data insights, emphasizing the need for each department to navigate multiple data sources.
Pivot to Cloud – Migrate vs. Modernize: The shift to the cloud is an essential step in data platform modernization. However, it is often misunderstood as mere migration, rather than an opportunity for business transformation through data and analytics modernization. Additionally, the rising number of bugs lead to repeated delays in the "Go live" schedule.
Obstacles in Data-Driven Decision-Making: Despite strong intentions, teams face difficulty leveraging data for decision-making. This arises from a lack of high-quality data access and an unsupportive environment for self-service analytics.
Untapped Cross-Functional Insights: The use of cross-functional insights remains an under-explored opportunity. Connecting data from different sources could uncover new valuable insights and work towards a unified view of the customer.
Lack of Customized AI and ML Solutions: Businesses primarily rely on pre-packaged software for insights, neglecting the potential of tailored AI and ML solutions. These could drastically improve operational efficiency and revenue growth.
The Journey to Data and Analytics Modernization
To stay competitive and ensure data resiliency, setting up a Data and Analytics Center of Excellence (CoE) is a crucial step for retailers. The CoE, as a catalyst for innovation, amplifies efficiency across supply chain, store operations, marketing, and merchandising with actionable, data-driven insights.
To get started with the modernization journey, it is important to take the following four actions:
Construct a Future-Proof Data Foundation: Establishing an advanced, resilient data foundation via a strong retail data modernization strategy involves migrating siloed workloads to a cloud-native environment. By consolidating data from various sources, retailers can enable seamless migration, improved data quality, and enhanced accessibility, thus facilitating advanced analytics and supporting the operationalization of AI/ML use cases.
Orchestrate a Robust Data Governance Framework: As data becomes the new lifeblood of retail, a robust data governance model is imperative. Effective data governance in retail involves clear policies for data handling and security, fostering data democratization. This not only ensures data integrity and compliance but also facilitates self-serve access to a unified "single source of truth." This framework nurtures trust, enhances decision-making, empowers independent insight extraction, and drives organizational agility and innovation.
Cultivate a Dynamic Community of Data Strategists: To drive strategic business decisions, retailers must cultivate a community of expert analysts and data strategists, to leverage a modernized data landscape, deriving retail data insights to enhance business intelligence and establish data-driven decision-making as a culture. This team transforms the organization from data-driven to insights-driven.
Harness AI/ML Solutions for Real-Time Stock Predictions: The modernization journey isn't complete without embracing advanced technologies like AI and ML. By integrating these solutions, retailers can make real-time in-stock predictions, optimize inventory management and minimize stockouts. This step will improve operational efficiency, customer satisfaction, and ultimately, profitability in the modern retail environment.
The Business Impacts of Retail Data Modernization
Retail data modernization has profound impacts on business performance, leading to significant enhancements across various business processes:
Improved Decision-Making: By harnessing comprehensive, accurate, and timely data, retailers can make informed strategic and operational decisions. From predicting consumer buying trends to optimizing inventory, data-driven insights allow businesses to act proactively and responsively.
Enhanced Customer Experience: Modern data tools can segment customers, personalize marketing efforts, and streamline the shopping experience, boosting customer satisfaction and loyalty.
Increased Operational Efficiency: By using modern data analytics to optimize supply chain processes, inventory management, and store operations, retailers can reduce costs, minimize waste, and maximize efficiency.
Boosted Revenue Growth: With improved decision-making, personalized marketing, and operational efficiencies, retailers can drive sales growth and enhance profitability.
Innovation and Competitive Advantage: Modern data practices, utilizing AI and ML, empower retailers to forecast market trends, anticipate customer needs, and outpace competition.
Risk Management and Compliance: A robust data governance model ensures compliance with regulations, protects customer data, and mitigates risks associated with data breaches and non-compliance.
Empowered Teams: Data modernization allows for self-serve analytics, enabling employees across the organization to extract insights independently. This drives a culture of data literacy, fostering innovation and productivity at all levels.
Drive Actionable Insights with Your Retail Data Modernization Strategy
In the age of digital retail, understanding data platform modernization and its transformative potential is crucial. Building a future-proof data foundation, fostering data strategists, and integrating AI/ML solutions enhance efficiency and competitiveness. As data-driven insights lead to success, you must leverage retail analytics solutions to boost customer satisfaction, streamline operations, and fuel innovation, turning data into your greatest asset.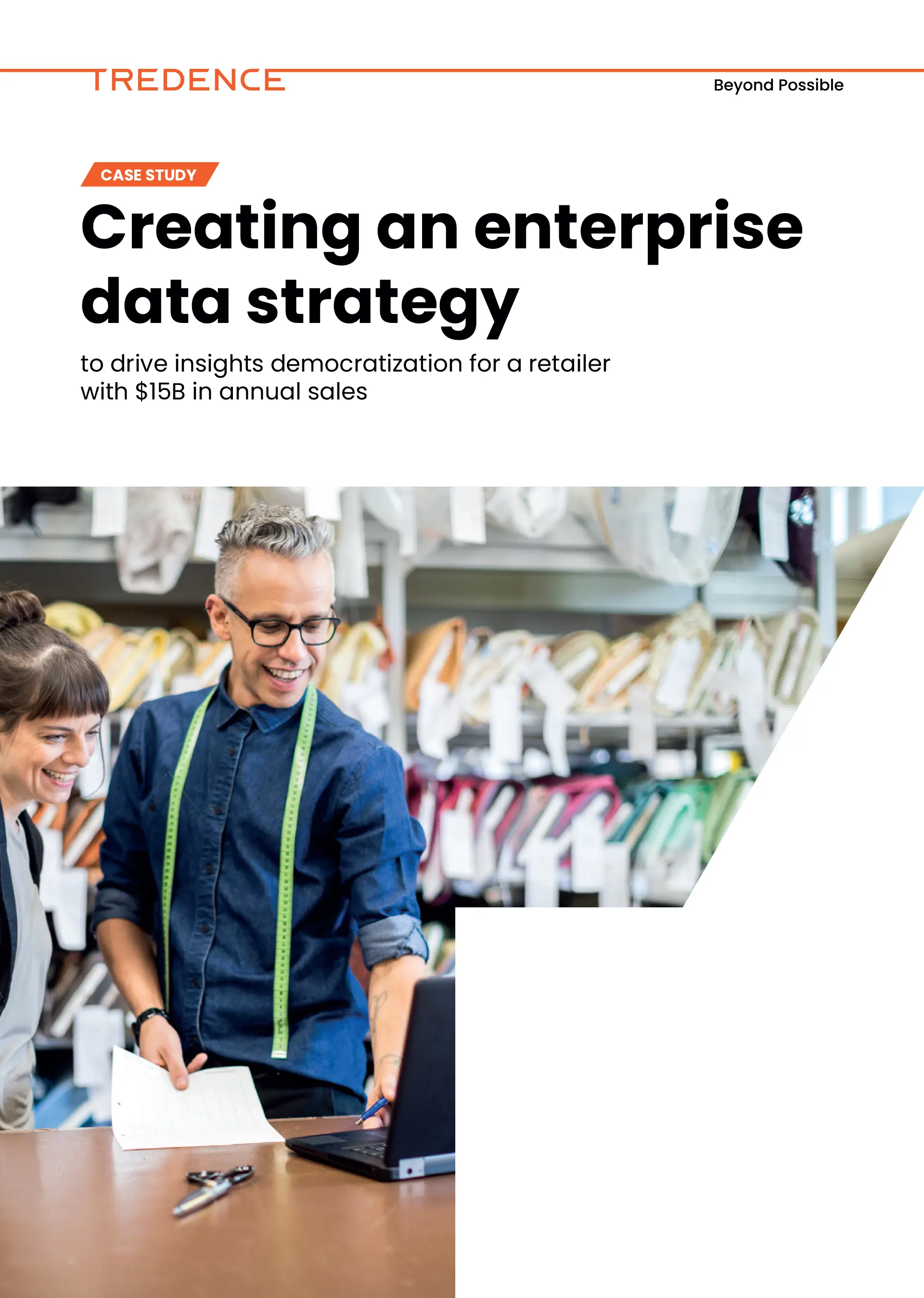 Detailed Case Study
Driving insights democratization for a $15B retailer with an enterprise data strategy
Learn how a Tredence client integrated all its data into a single data lake with our 4-phase migration approach, saving $50K/month! Reach out to us to know more.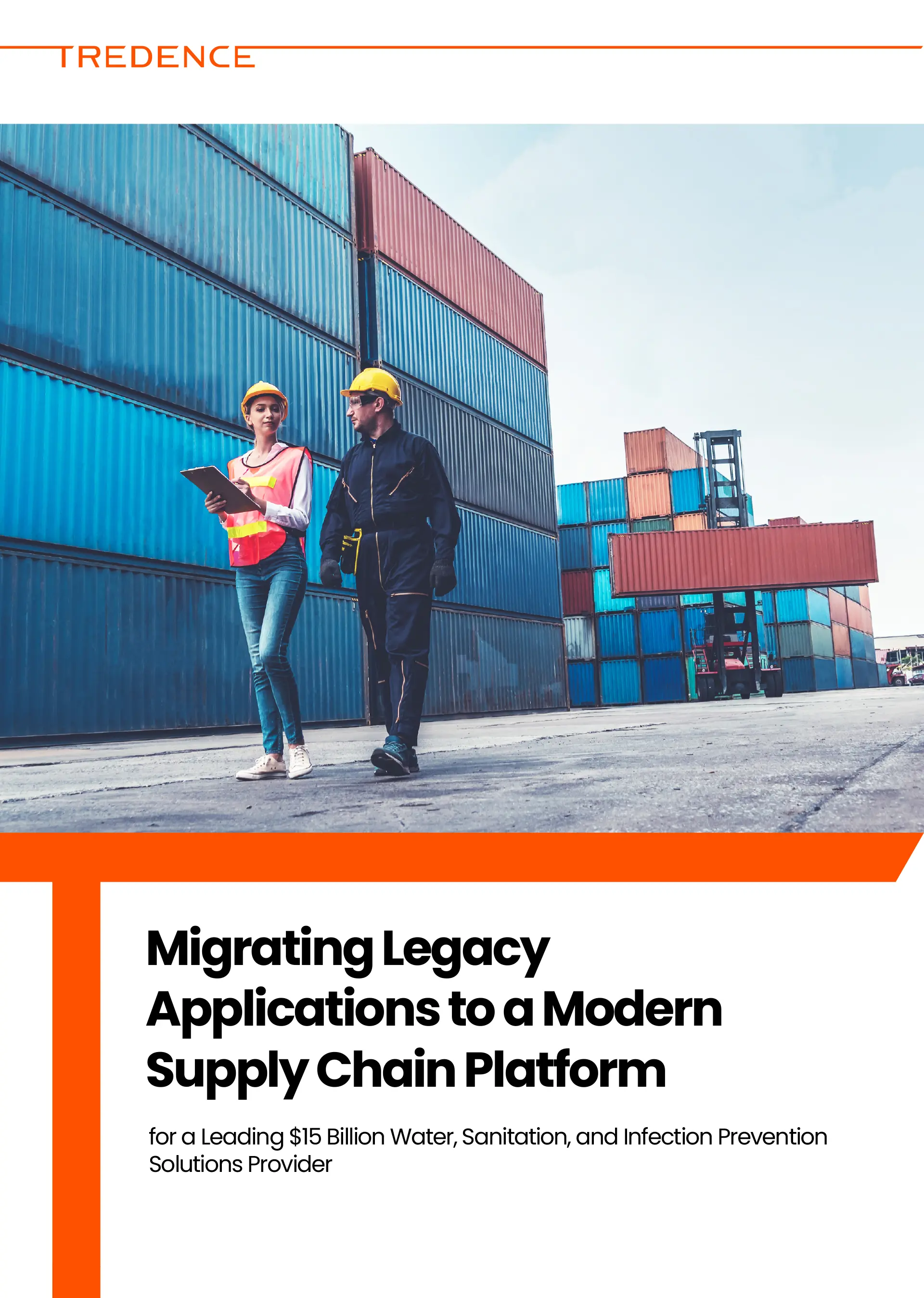 Detailed Case Study
MIGRATING LEGACY APPLICATIONS TO A MODERN SUPPLY CHAIN PLATFORM FOR A LEADING $15 BILLION WATER, SANITATION, AND INFECTION PREVENTION SOLUTIONS PROVIDER
Learn how a Tredence client integrated all its data into a single data lake with our 4-phase migration approach, saving $50K/month! Reach out to us to know more.
---
Next Topic
Creating the Technology Backbone for Generative AI (GenAI) Customer Use Cases
---
---
Next Topic
Creating the Technology Backbone for Generative AI (GenAI) Customer Use Cases
---