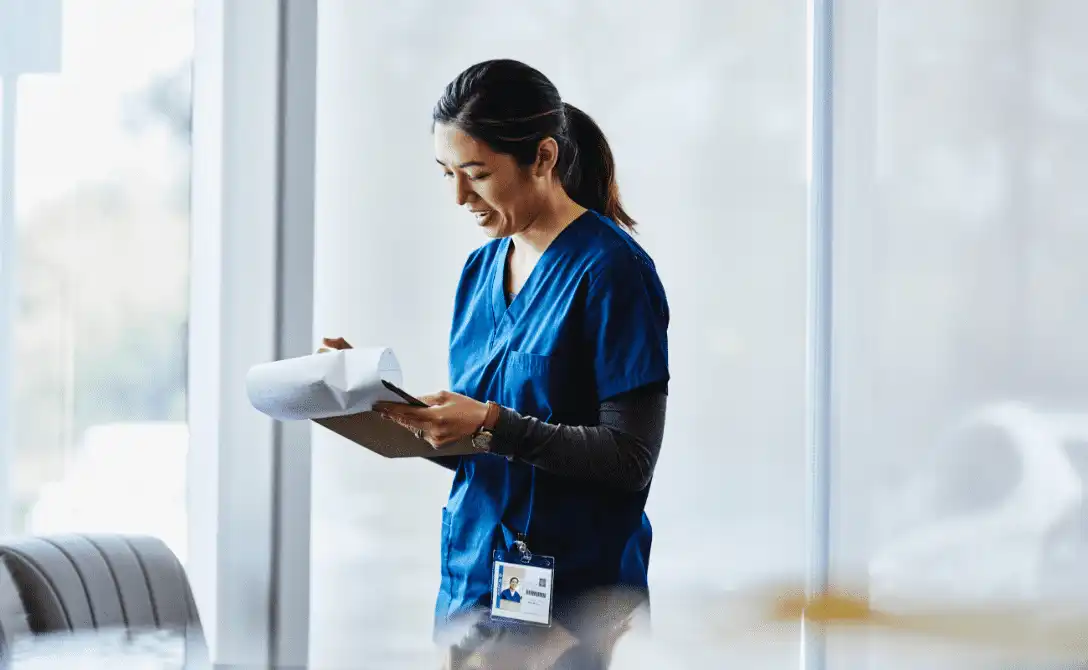 The ongoing COVID-19 pandemic overwhelmed the healthcare sector and exposed its limitations. But, it also opened the aperture for the adoption and scaling of artificial intelligence (AI) to solve critical healthcare challenges and make many aspects of healthcare more efficient. Even before the pandemic hit, many healthcare institutions were willing to lean on the adoption of digital tools and AI technology through artificial intelligence consulting firms to improve productivity, shore up their capacities for offering preventive care, faster speed to market, improve patient care to those suffering from chronic ailments, and increase cost efficiencies. Simply put, AI and data analytics make the lives of everyone easier – patients, doctors, and hospital administrators.
It powers healthcare operations more efficiently than humans, but in less time and at a much lower cost. A Gartner report suggests that the healthcare sector is experiencing unprecedented levels of disruption. Only 22% of organizations (categorized as "fit") feel prepared to battle this transformational wave, while 41% of healthcare enterprises fall into the category of fragile organizations, which are likely to get left behind.
Drivers of Change in Digital Healthcare
For years, the healthcare industry had been struggling with diminishing payments and cost optimizations. But in the light of recent events, there have been changes in this sector. Let's look at some significant drivers of change in digital healthcare such as the explosion of clinical data, COVID-19 outbreak, increasing adoption of Internet of Technologies (IoT) devices and AI/VR, etc. But some healthcare enterprises feel challenged to transform due to the massive amounts of health data, rising technological costs, and privacy concerns.
Impediments to AI Adoption by Healthcare Enterprises
While AI is already delivering on its potential to yield immediate returns through cost reduction, improved clinical productivity, and personalized medical care by tapping the power of clinical data analytics, many healthcare organizations haven't been able to use AI to its optimum potential. It's not surprising to note that even after the pandemic, many healthcare institutions are sitting on the fences and failing to integrate AI into their patient care environment due to factors like inferior-quality data, implementation issues, siloed data systems, ethical risks, no AI consulting vendor lock-in, and more.
The biggest impediment to success that could have been leveraged from the use of AI in COVID response has been a lack of insightful, real-time data. The data infrastructure across most health organizations across the world is outdated and thus redundant. Hence, reliable data collection with no privacy concerns is a far-fetched idea. If these institutions would have gone a little aggressive with their AI strategy and hired competent AI consulting service providers a couple of years earlier, modern healthcare would have been reinvented and reinvigorated many years back and the humanitarian toll wouldn't have been as grim as it is today.
The healthcare infrastructure across the world can't risk not investing in AI today. In the ongoing pandemic, AI can be seen making its presence felt at every point – from patient self-service and patient census forecaster to AI-assisted diagnostics, AI-backed surgery, and AI-powered medical instruments; AI-based E-healthcare and M-healthcare are everywhere. Thus, the need for artificial intelligence consulting has emerged as more critical than ever. Before we take a deep dive into this subject, let's first understand that AI applications in healthcare broadly fall under three categories:
Patient-oriented AI: Natural Language Processing (NLP) creates complete electronic health records (EHRs) of patients, which helps in the documentation of clinical information that builds a patient's profile indicating the patient's medical history, medications, allergies, surgical records, family, and social history.AI powers self-service benefits to patients round-the-clock and gives them access to knowledge and chatbot functions. These benefits include quicker and convenient appointment scheduling, more choice of doctors and hospitals, easy bill payments, and no cumbersome paperwork. These benefits not only offer patients the convenience to seek medical care as per their own choice of time, location, and schedules, but can also streamline operations for hospitals resulting in reduced costs and wait times, prioritization of select groups of patients in critical conditions needing immediate medical attention and value-added services, easy bill payments, less human errors, and improved patient satisfaction.
Clinician-oriented AI: NLP and ML are currently used in imaging studies and extracting clinically relevant data to make diagnostic evaluations. These also forecast in-hospital mortality, length of hospital stay, and discharge diagnoses.AI eliminates unwarranted changes in clinical practices and improves efficiency significantly. It also helps with reduced time and cost of drug discovery by identifying candidate molecules, smart and effective treatment plans, and delivery. With multiple clinical trials being performed worldwide, reading and processing the mountains of data is a gargantuan task for a single clinician, but an AI-powered system can interpret heaps of pages of study findings and compare that data to a certain patient's case in a short time frame.
Administrative and Operations-oriented AI: According to Insider Intelligence, 30% of healthcare costs are associated with administrative tasks. Keeping up with record-keeping, compliance, and regulatory requirements, healthcare organizations can tap into the power of AI and data analytics to:

Accurately analyze massive amounts of patients' and clinical data
Identify hidden trends
Explore predictive analytics for mapping interventions, emergency care, and improving patient outcomes.
Make well-informed business decisions
Facilitate profitable management of health systems.
AI and data analytics can also help healthcare organizations in the field of genomics and disease predisposition planning with proactive diagnosis and preventive healthcare. It facilitates improved data collection from EHRs, wearables, etc. Now that we've established that AI and data analytics support doctors and not replace them, it's important to understand how to leverage it to its full potential to support poorly resourced services so that large populations can be easily supported with scarce human expertise available.
Though AI is a growth engine for the healthcare sector that can unleash significant improvement in quality access to patient care at affordable costs, its model development does need deep domain expertise and good training data. That's where a good AI consulting services provider is required that can effectively operate at the intersection of the healthcare domain and technology, leverage business insights to plug into the real-world scenarios, and power an affordable healthcare model with its innovation-led approach.
You might feel overwhelmed to make a well-informed choice from the mushy ecosystem of AI consulting services providers. But, it doesn't have to be that difficult. There are some key points that you need to bear in mind when you set out to make a selection.
Evaluate your own healthcare enterprises' unique business needs. Then, look at what kind of AI and data analytics vendors other leading healthcare payers, providers and public health entities are selecting to partner with. While some may choose an AI consulting service provider that offers end-to-end AI consulting and support by defining the most complex business use cases, building, solutionizing, and humanizing the AI models and seeing the solution through to completion, others may choose a vendor that can help them focus on a particular vertical of your healthcare entity.
In either case, the key objective is to make yours a smart healthcare enterprise future-proof to combat any health emergency or crisis.
Tredence is a Forrester-rated top AI consulting firm that uses a collaborative approach to enable healthcare enterprises to develop scalable AI and data analytics solutions for forecasting and performance monitoring, care delivery optimization, and smart dashboards, etc. With its deep AI expertise, Tredence streamlines healthcare organizations' operations and builds capabilities to glean critical insights from huge volumes of healthcare data, and deploys agile AI models to expedite the digital transformation.
Tredence's end-to-end offerings in operational transformation and consumer experience prepare your healthcare organization to face the waves of disruption and deliver personalized and informed patient care. Reach out to us at info@tredence.com.
Detailed Case Study
Driving insights democratization for a $15B retailer with an enterprise data strategy
Learn how a Tredence client integrated all its data into a single data lake with our 4-phase migration approach, saving $50K/month! Reach out to us to know more.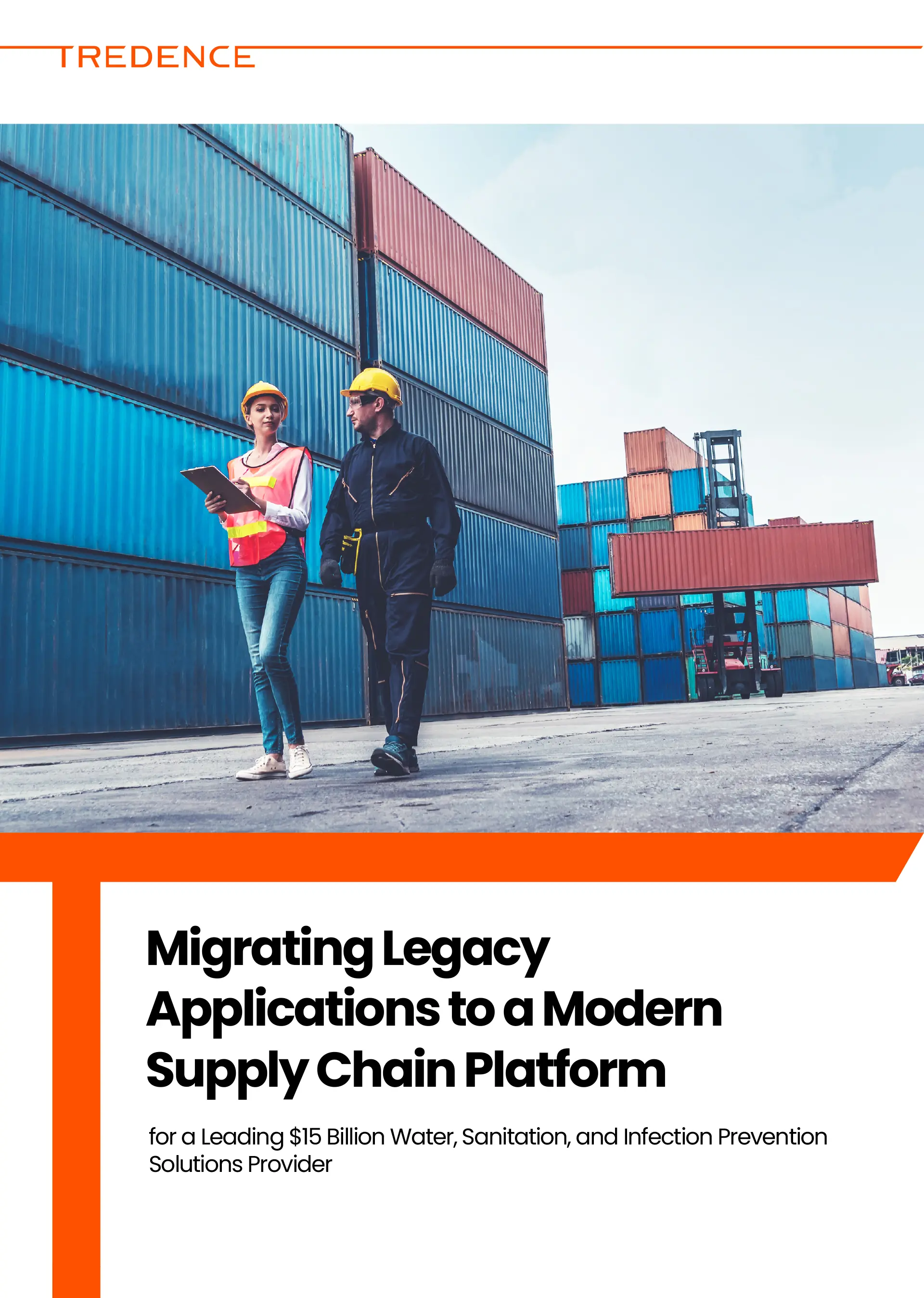 Detailed Case Study
MIGRATING LEGACY APPLICATIONS TO A MODERN SUPPLY CHAIN PLATFORM FOR A LEADING $15 BILLION WATER, SANITATION, AND INFECTION PREVENTION SOLUTIONS PROVIDER
Learn how a Tredence client integrated all its data into a single data lake with our 4-phase migration approach, saving $50K/month! Reach out to us to know more.